AKASO A31 Quadcopter Drone with Camera
PROS & CONS 
PROS
Easy to assemble

Easy to utilize and control 

Cool features

Very steady altitude hold

Good camera at the cost 

Can create fantastic footage using a camera

HD Camera & FPV Real-time Transmission

Simple Take Off / Landing + Altitude Hold

Stunts and Auto-Return

Headless mode & Trimming

Tricky to calibrate but once done easy to use
CONS
Short flight time of 8-9 minutes

Limited control and Wi-Fi range

No additional battery included 

Cheap plastic feel
AKASO A31 Quadcopter
This AKASO A31 Quadcopter Drone
, may not be the best-known flyer out there. Yet people who have bought it, swear that it is great for the price of £59.99. This Fantastic Quadcopter Drone has a 1080P HD camera, real-time first-person view transmission, bright LED lights. IT comes equipped with a 1080P HD camera for taking stunning aerial photos and videos. With the built-in WIFI capability, you can see what your Drones camera sees after installing the accompanying app from Google Play Store or App Store. The AKASO comes with a colourful LED light attachment for bright night flying. You can find that the battery is situated on the back of the drone which enables the user to have as long as 9 minutes of flight time per charge.
AKASO A31 is made for learners who are looking for a straightforward and simple drone, to begin with. The drone includes a shading blend of black and blue as you'll see in the images below. On the top, it displays the brand logo, the drone itself is made from solid ABS plastic that enables the drone to have improvised resistance against any crashes or bangs that may occur.  If you are new to flying drones – the box includes propeller guards that broaden its resistance against crashes, this drone is also outfitted with landing slips that give protection against any possible harsh landings. 
In The Box
The contents that arrive in a post when ordering this AKASO A31 is as follows:
LED Module

Transmitter (3x1.5V AAA battery not included)

7V / 750 MAH Drone Rechargeable Battery

Extra Propeller A1

Extra Propeller B1

USB Charging Cable

Propeller Screwdriver

User Manual
Design and Build Quality of Quadcopter Drone
This drone is 13x13x4 inches in size, and it weighs approximately 750g. The outside packaging is made of high calibre and solid ABS plastic. This is resistant to crashes and damages that happen when flying especially with new flyers. The fragile pieces inside the drone are as safe as possible with the ABS Plastic creating a good barrier between them. The finishing of the drone, is of matte black paint with contrasts of blue, in the middle of the drone with the logo brand printed in the centre.
Camera
The camera fitted has a 1080P Full HD camera that has a 120-degree wide focal point. This can see more than the basic camera that generally has a 110- degree of viewing. The camera has constrained movement, so the extra 10 degrees does help with capturing images and videos.
Battery
The battery is located on the opposite side of the camera. It slides off and can be prepared for charging. It takes about 100 minutes to charge to the full optimum. The flight time is between 8-9 minutes. The battery is 3.7 with 750MAH of limit, there is not an extra battery included so do charge and plan flying times accordingly.
Remote Controller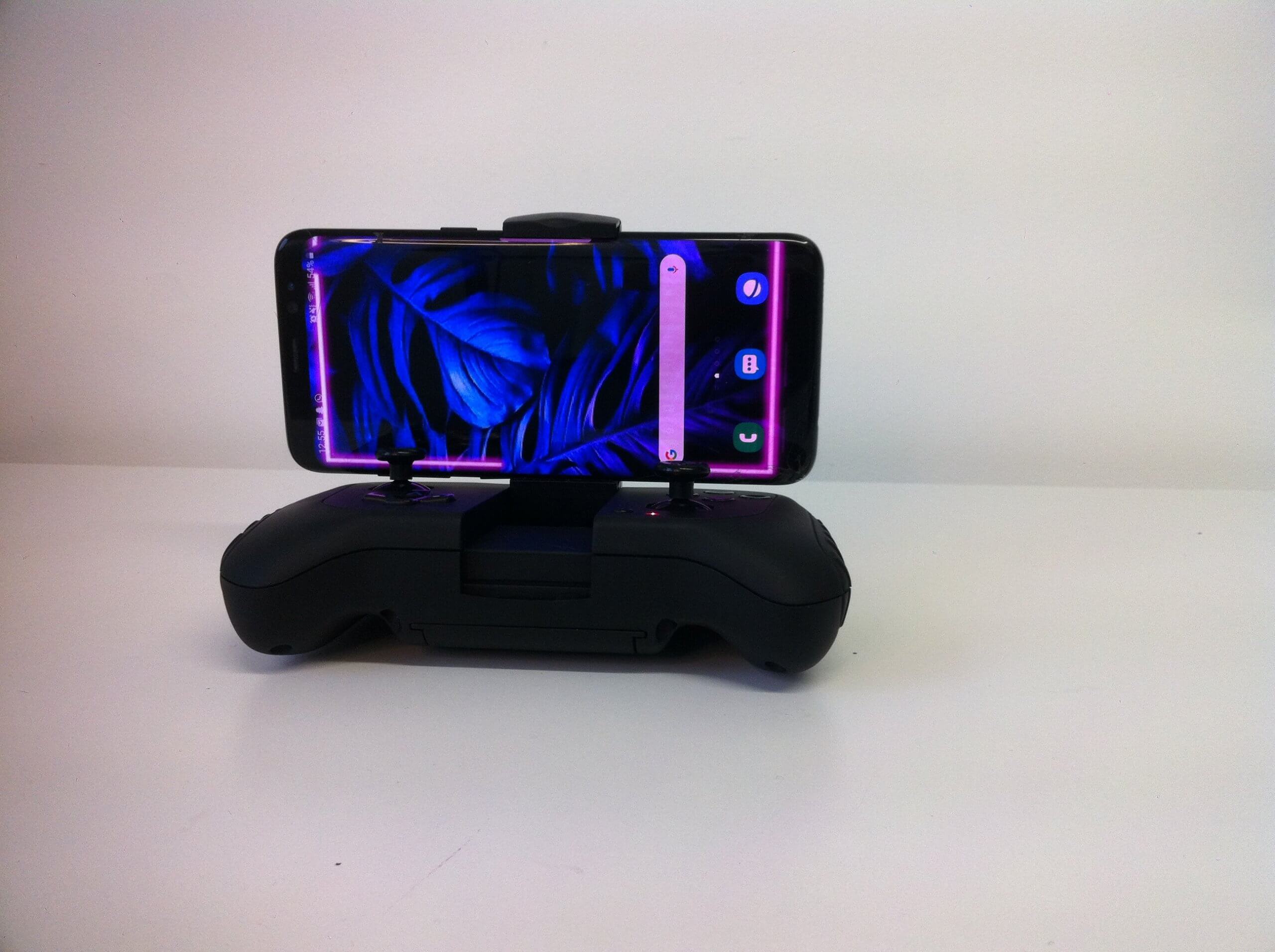 The remote controller that comes with this A31 drone has a maximum scope of 100 meters. So, if your drone surpasses this scope, it is unlikely you will be able to retrieve it. But do make use of the return key so that the drone may come back to the original space before it's too late.  When flying, try to stay in less windy areas as the drone will be challenging to control in these types of weather and can even get damaged.
Flight Performance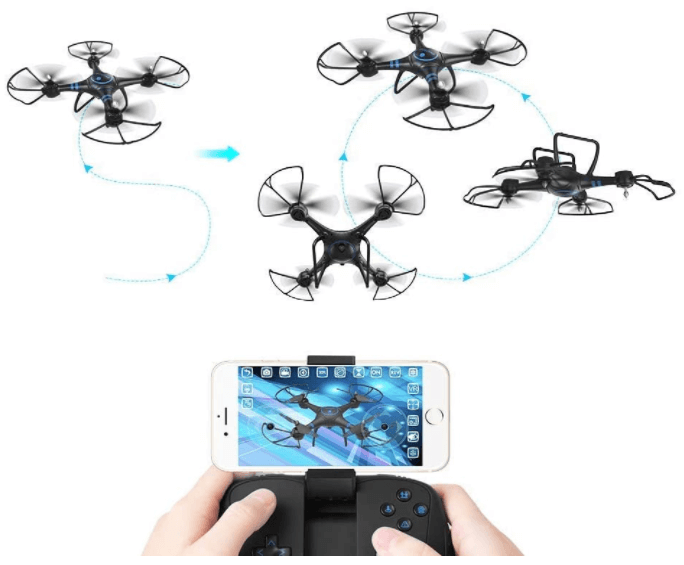 This is likely an essential factor when it comes to purchasing the AKASO A31 Drone, the flight performance is very significant. The maximum flight time is between 8 to 9 minutes per charge. Remote-control separation is up to 100 meters.
Moreover, the flight time is somewhat lacking but to make up for that the AKASO A31, is featured with adaptable speed modes that allow you to have a smooth and slow experience, which is an expectation for learners. This is a simple and easy drone for new learners to use with the features considering newbies.
Flight Features and Functions

The features and functions AKASO A31 have to offer, here are some of the key features you should know:
1080P HD camera

Real-Time FPV Transmission

Stunts and Auto-Return

Headless mode

Trimming

Altitude Hover Function

One Key Take-off & Landing

Emergency Landing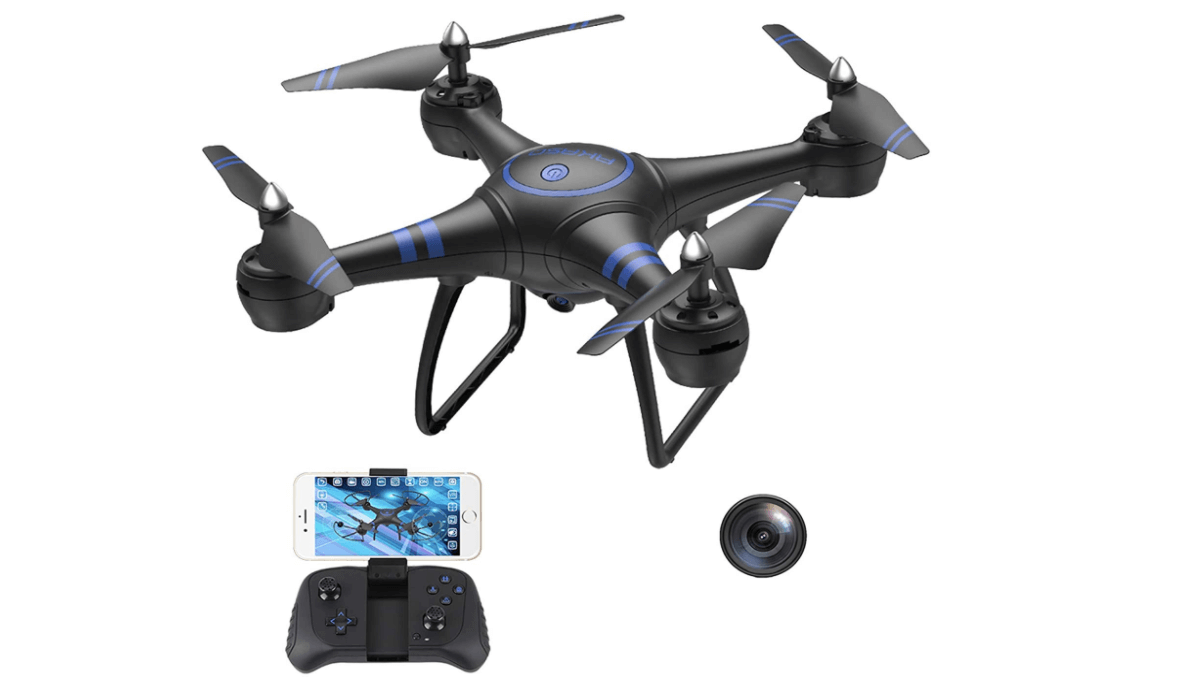 Auto Take-off and Landing Key
This is an ideal feature for newbies, children and learners –press the key, and the Quadcopter drone will auto take off, it will float up at a good height and wait for the next command, and the same applies when landing.
Speed Modes
You have different speed levels for newbies you can develop some abilities at a low speed and attempt higher speeds when you have increased your knowledge and practice. The speed levels range from low modes to medium and high.
Flips and Rolls
Not many drones have this feature, but you can use it with AKASO A31 – while in flight you can do a 360-degree roll or flip, but this does use up more battery power.
Trajectory Flight
You can open the app on your mobile device and physically draw a course on the guide that you want the drone to follow. When you dispatch the drone, it will automatically follow the course you set out, without having to use your hands/ controller.
Headless Mode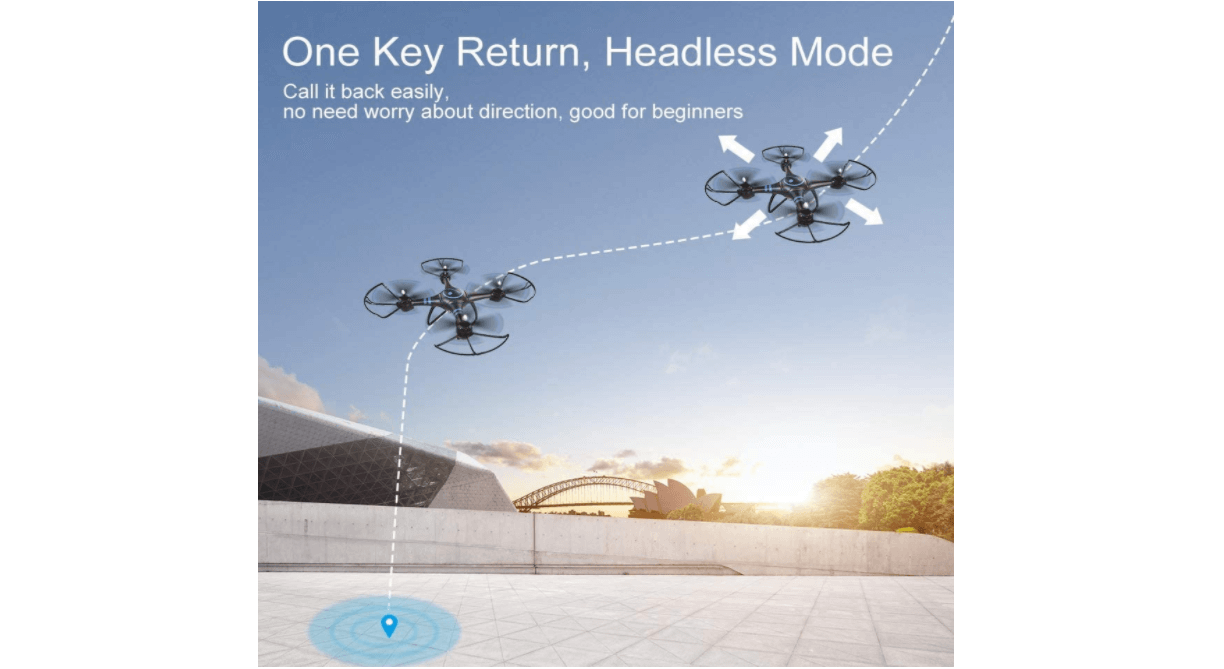 The shape of this drone makes it appear the same from any side. This can be troublesome for new learners, but when the headless mode is activated, the drone flies according to the pilot, so there is no need to worry where the front faces of the drone are, when you are a good distance from the drone during flight.
Altitude Hold
This mode locks your drone to a specific build during forwarding flights as learners are not able to hold the altitude of the drone manually, a great mode for learners
Auto-return
This allows the drone to return if it flies out of range or the battery begins to run low. This guarantees the user the drone doesn't get lost.
Specifications
Remote distance: 100 meters

Wi-Fi: 50 meters

Drone Rechargeable Battery: 3.7V 750mAh

Remote control: 3 x 1.5V AAA battery (not included)

Flight time: 8-9 minutes

Drone size: 39.5 cm x 39.5 cm x 11 cm

Drone weight: 750g

Charging time: 90-100 minutes
Purchasing Guide
If you are interested in purchasing this interactive AKASO A31 Quadcopter Drone with Camera visit the link below:
www.amazon.co.uk/AKASO_A31
Reviews Found Online Of Customers Who Bought AKASO A31 Online:
[table id=21 /]
RateUsOnline Verdict For Quadcopter Drone
In conclusion, The AKASO A31 is a great first time buy for starters and professionals, it is also moderately cheap compared to other drones, for the quality it provides, it offers a great blend of good flight and remote-control distance. Having tried and tested this drone at RateUsOnline, I found that the drone itself was straightforward and easy to assemble, the setup can be quite tricky for a first-time user however, once the calibration is done the drone was relatively easy to use and fly. You do need to get used to controlling it, which comes with time and practice.
I would highly recommend initially learning how to use the drone indoors, before taking it out for a spin; as it can fly away effortlessly into neighbours' gardens, if you are not sure how to use it.
Additionally, it was fantastic that it is linked to my phone and app. The great quality camera was great to use and is fantastic for people who want to create some epic footage. It has excellent features to aid the user. All in all, I'm happy with the purchase, and in my opinion, it is worth £59.99 as the features and functions are of great use and great for novice users. Big thumbs up from me!
STAR RATING

I give this product a 4-star review because AKASO A31 Quadcopter Drone with Camera is; 
Easy to assemble and use

Great features for new users

It is a little tricky to calibrate and set up but once done is easy to use.

Great camera quality

Scope distance 100meters amazing
Contact us at team@rateusonline.com if you would like us to review your product.