Gresunny Neck Phone Holder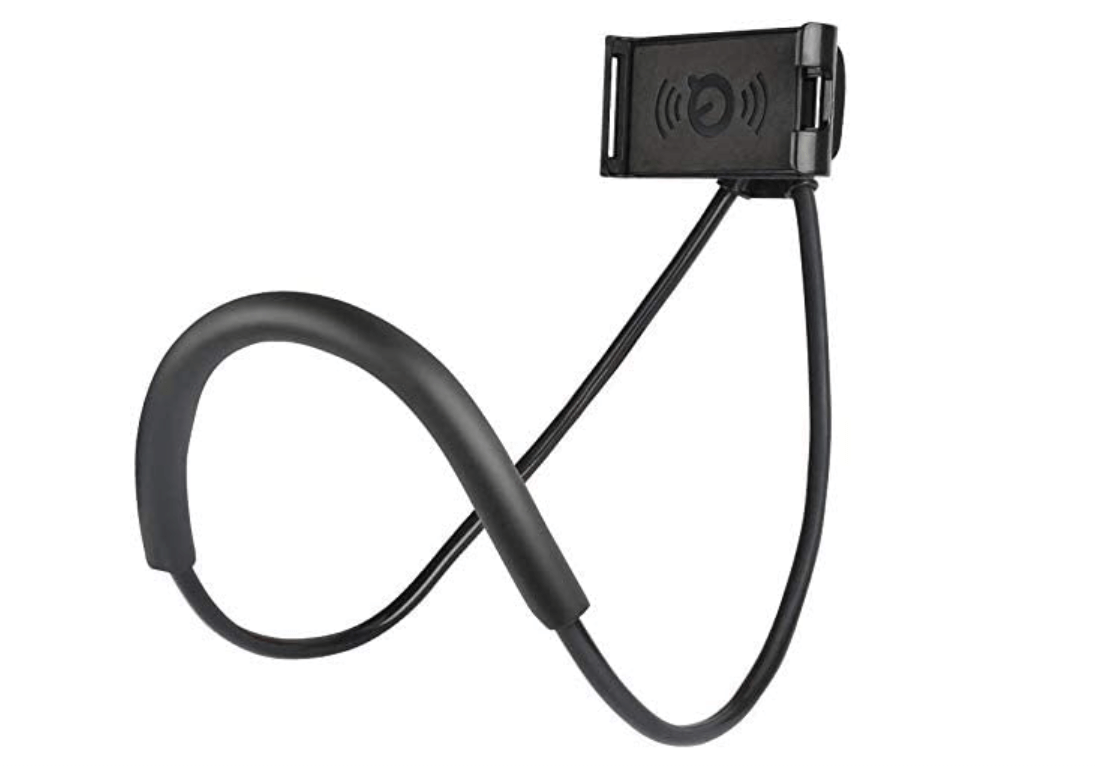 These devices are known better as "Neck Phone Holders" or "lazy Brackets" or even "Lazy Phone Holders". These are great devices that allow you to view your mobile device or tablet hands-free, in almost every position.
They make a great convenience tool for people who may be in wheelchairs or have some kind of restriction physically. It's great for people who want to just relax and watch a show in bed.  You could even attach them to your bike depending on the device.
Using a neck phone holder will free your hands and guarantee there will be better comfort and convenience for the users. It is very easy to use and comes in a multifunctional design.
It lets you mount it anywhere you want and can be the ideal purchase for travellers or for parents who want to entertain their kids on long journeys.
 Neck phone holders will also allow you to adjust it from multiple angles and offer an optimal viewing position. It is a highly reliable product and holds your phone securely.
About the Item
Gresunny Neck Phone Holder is available for purchase at a very affordable price from Amazon for £9.49. The Neck phone holder arrives very quickly so you won't be waiting too long, to be hands-free!
This is a universal design; the best neck phone holder is compatible with all types of smartphones and androids. You have a choice of colours from black, white, and blue.
You don't have to be concerned about any discomfort as this neck phone holder comes with adjustability. The flexibility is also great as the neck phone holder has a 360-degree rotation and can be adjusted to any angle that you may like or find easy. There is also a clip port that allows you to fit a charging cable in for more convenience. The design is scratch-resistant padded.
Furthermore, this is composed of high-quality materials of 70% Aluminium alloy and ABS Plastic.

a
Additionally, it is non-slip shock resistant and includes breathable foam on the neck for comfortability and ergonomics. The product is anti-skid and easily locks into place. It gives you the advantage of having both horizontal and vertical mounting. With all these considered the device is very durable, long-lasting, and quite comfortable, and safe to use.
Free your hands! The versatility of the product does not limit you to only use around your neck, you have options of leaving it free-standing on your desk, around your waist while being seated in comfort, mounted in your car for the kids in the back, on your bike  and can even be installed onto your bed. The device is perfect for airplanes, you can lay back enjoy the flight. The possibilities are endless.
The great thing about this lazy bracket neck phone holder is the application is suitable for almost any mobile device, iPad, or any other device with a width and height range of 4 to 9.5inches.
[table id=39 /]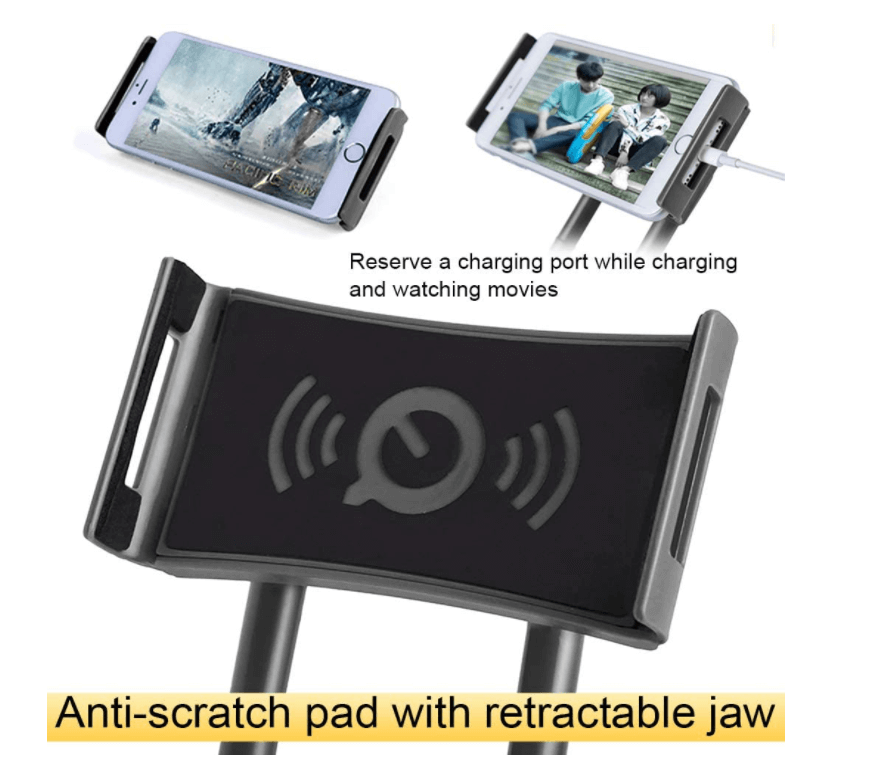 Key Points
1. Comfort:
The neck phone holder comes with breathable foam padding for superior comfort around your neck, waist ectara. Allows you to have a hassle-free operation and has optimum viewing positions.
2. Versatility:
The versatility allows the user to use the device to its maximum potential of mounting it pretty much anywhere including the gym, bed, and bike.
3. Construction:
The durability is fantastic and long-lasting due to the use of aluminium alloy and plastics used. the construction allows the user to ensure their device is held securely and safely, but remains lightweight and is portable.
4. Flexibility:
The neck phone holder allows you to use from multiple angles with a lock in place to let you choose from both vertical and horizontal mounting, and can even rotate in 360 degrees.
5. Compatibility:
Compatibility is one of the most important things that you will have to consider while buying a neck phone holder. The lazy bracket neck phone holder allows you to use it with devices that are 4- 9.5inches long. This is compatible with most smartphones and androids.
Price and Purchase Guide
The Gresunny Neck Phone Holder is available from Amazon for £9.49 Prime Delivery on orders dispatched by Amazon
www.Amazon.co.uk/LazyBracket
Reviews Found Online
[table id=41 /]
RateUsOnline Verdict
There are various scenarios when a neck phone holder will be perfect and will prevent the strain on your hands. The situations could be that you are sleeping, relaxing in the bathtub, and driving with kids, or your hands are busy doing something else.
Based on those scenarios, you should opt for a high-quality neck phone holder, and provide your hands the much-needed relaxation. The Gresunny Neck Phone Holder is definitely an affordable and comfortable device to use, I personally loved using it in the kitchen while cooking.
Especially for those following a recipe, this is a great place to use it. I definitely would purchase this for family and friends who may like the option to use hands free and relax while at home and traveling.
It's a great accessory to have if you are into making unboxing videos – as all you need to do is place your phone in the device around your neck click record and you can unbox and ensure the frame only has your hands in the video.
Star Rating

I give this product a 3- STAR review because the
Gresunny Neck Phone Holder
is;
3/ 5
Affordable in price

Easy to use for all users

Versatile in options to use

Great for people in wheelchairs

Entertaining for children on long car joinery's

Not as comfortable around the waist when laying down.

Not as steady when in use.