HBUDS CADY WILE KIDS ROBOT; Learning Fun For Kids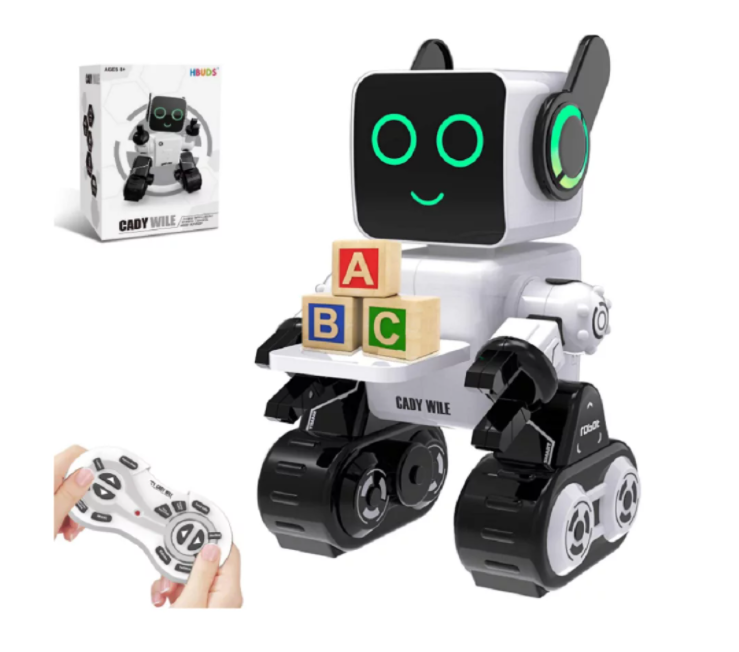 These toys serve as a great way to engage a young mind, as the child uses logical concepts to set up various programs, routines, or obstacle courses. 
PROS And CONS For Hbuds Cady Wile Kids Robot
PROs
Engaging

Educational

Remote control movement

Touch & Voice control

Built-in coin bank

Record and movement

Tray to add to serve or present gift

If not, active it will announce and look for you

Key to open or keep safe the coin bank

Interactive sound control (clap action)

Dancing

Story tells

Maths knowledge
CONs
No volume controls

Can be difficult for kids to operate at the beginning

Choking hazard (coin bank key)

No spare battery in case of damages to one provided

Focused on money solving (both positive and negative for kids)
Cady Wile Kids Robot Intelligent Interactive Toy for Kids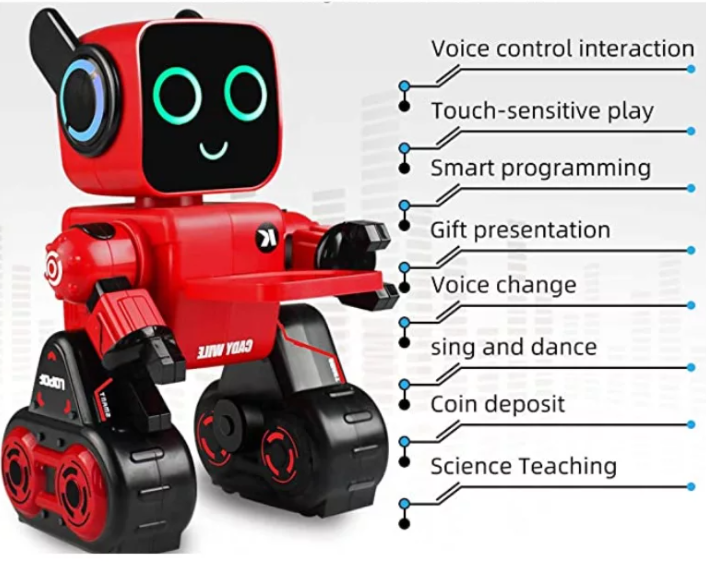 This Cady Wile Kids Robot Interactive Toy is a great intellectual learning toy to gift a young mind from the ages of three and upwards. It is available to purchase at Amazon for the price of £59.99. It includes many different features and functions which allow your child to learn and develop and have fun all at the same time.
The toys age recommendations are between 3 to 10 years old however there are no age restrictions and you can still have fun from above the age of 10. 
With another Christmas coming it's a great gift to get for your grandchildren, kids, friends, etc. Robot toys are everywhere right now, and they're getting better and more child friendly than ever. This cool dancing robot toy is a much more effective learning tool than building blocks and is a little more complex.
There's a cool bot for all ages and attention spans these days. During the growing years of a child, it is important to provide them robot toys, it will allow them to think and learn while they play.
These types of robotic toys will tap into a different area of the children's brain and improve their creativity, thinking, and motor skills as well as cognitive skills, which in turn prepares them to become creative thinkers and problem-solvers for the future.
With this in mind, this remote-control robot toy for both girls and boys has been developed to keep the playtime for your kids fresh, active, and fun and channel them into active learning!
It is made from the highest quality materials with no dangerous parts, so you do have to worry about your child's safety. But do always be careful of the coins and coin bank key and parts that can be a danger to children age 3 and below.
Design And Features
The main area in which this robot differs from others is that it focuses on financial tips and even has a coin saving bank situated in the head which promotes saving habits. Which you can access using the small key provided. The Robot Toy comes in two colours, white and red. 
It comes with a fully accessible remote control which allows you to move and present gifts and even dance and record sound with said remote.
The robot is well made and designed and has the aim to last for many years. It features a 2.4 GHz intelligent processor to deliver advanced features, capabilities, and movements.
The main three features the robot toy has are; remote control, touch interactive, and sound interactive.
The Robot Toy speaks messages and moves forward, back, clockwise, and counter-clockwise with an included wireless remote. Providing children with fun and education.
Interactive Mode
A key feature this lovely Robot Toy has is the interactive mode which allows you to have vocal interaction by pressing on the button on the controller, once done the robot eyes will turn red this then indicates that you can proceed with the clap hand function when you clap hand once the robot will play three recordings when you clap hand twice the robot will start to dance with you.
Sings And Dances
The robotic toy comes pre-programmed with music dance tracks. He can become your child's new dance partner and encourage your kids to move and dance and have fun while still learning fiscal facts and scientific facts. It's great to brighten your mood and has a party feel to it as the robot has many different LED light colour options to change on the interface.
Built-in Coin Bank
The main areas as mentioned before that the robot focuses on is fiscal and science matters, the toy comes with a saving technique for kids while also allowing for a fun and movement fact learning.
You can place and save coins through a slot hole placed in the head where you can deposit the coins you would like to save. This allows children to learn the virtues of saving. You can remove the coins through the back of the head using a key provided with the toy itself, unlatching the compartment which allows you to pull out the drawer.
Rechargeable Battery
The battery attached to the Robot toy can be removed and charged. The charging apparatus is a USB cable that can easily be connected to the micro USB port and connected to a USB charging point, for example, your laptop, desktop or USB plug ports, and even power banks if you're out and about with the toy.
Touch & Voice Control Mode
This is a great feature for interactive learning as the robot toy has touch sensitivity when you touch on the Robot's head, the Robot toy will trigger in response with sounds and you tell you some useful knowledge.  
You also have the option to choose from 3 voice changes and of voice, clap commands which trigger responses. You can also record your voice which is then played back by the robot so you can deliver messages to family in the same home.
Sending Gifts
The robot toy has a removable tray feature at the front of the body of the toy where you can place items, be sure not to go over the 500g mark as that is the limit for this little guy.
The controller has a "send gifts" icon that once pressed the robot will announce "here comes the gift" and will roll forward to present this gift you have placed on the tray be sure to keep the gifts small and light.
It can also deliver messages that you have recorded. Turning the Robot Toy into a personal assistant.
Returns / Exchanges Policy
Amazon's return policy for the 2020 holiday season, items that are eligible for a return, and are shipped between October 1st and December 31st can be returned until January 31st, 2021.
Amazon returns policy will revert to the standard 30-day period for items delivered after 31 December 2020.
Many Sellers on Amazon.co.uk, offer returns for most items within 30 days of receipt of delivery.
Must contact the seller in regards to returns or exchanges as they may vary – as stated on the amazon page they provide exchanges and replacements for any faults found on the product. Contact them for further information.
Package List
X1 Remote Controller: to control robot walk, play music, dance, voice recording, volume

X1 USB charging cable

X1 Tray, to carry light gift which weight is not over 500g

X1 Key, to open the piggy bank
Specifications
Body battery: 3.7V 400mAh lithium battery (built-in)

Charging method: USB

Charging time: About 60 mins

Working time: About 70 mins

Remote control distance: About 50 feet

Remote controller battery: 2 x AAA battery (not included)

Robot measurements: 6.69 x 5.51 x 10.04 Inches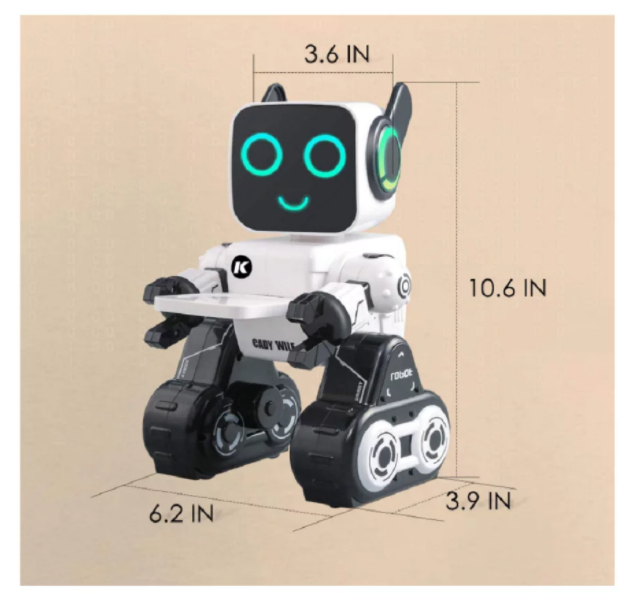 Technical Details
[table id=11 /]
Purchasing Guide
If you're interested, in purchasing this Cady Wile Kids Robot Intelligent Interactive Toy for Kids click the link below!
www.amazon.co.uk/cady_wile_kids_robot
Reviews Found Online Of Customers
[table id=18 /]
RateUsOnline Verdict
We at RateUsOnline tried and tested the Caddy Wile Robot Toy. The toy is a great educational toy that provides kids with fiscal knowledge and techniques and encourages them to save money. The interactive mode is great for kids who want to have a more collaborative way of playing with the toy with the clap hand function and voice recording function which allows them to send messages to people in the same home or environment as them. Children can also send small gifts n the tray provided which encourages kind behaviour.
The assemble of the toy is very straightforward. The Toy is easy to use once you understand the functions available to command the toy. The battery life Is sufficient as your child has approximant of 70minutes of playing time before it will need recharging, over the features of the product are a great learning tool wrapped in fun and games.
However, I feel that the price I feel does not fully match the toy itself as the lack of volume control can become troublesome for parents working from home. The key provided to open the coin bank located in the head can be a choking hazard for kids. When the toy is not turned off and if not being used it can become active and announce that it is looking for you and move around which can be disruptive to young children who may need nap time.
Although the Toy is Science and Money focused and a teaching toy it can become a negative attribute if the child continually hears about fiscal information, this all depends on how they interrupt the knowledge they receive. The toy itself cannot be held directly responsible. 
Although it is a great interactive learning tool for kids, I feel that if the price was a little lower it would be more worth the purchase. But overall a great toy for kids and a great present for the Christmas holidays.
STAR RATING For Hbuds Cady Wile Kids Robot

I give this product a 3-STAR review because the HBUDS Cady Wile Kids Robot is a;
Educational toy for kids

voice changing ability 

Interactive and fun for kids

Dancing options with music

Encourages saving techniques

Lack of Volume control 

Loud for the rest of the family at home
Contact us at team@rateusonline.com if you would like us to review your product.