Ulefone Note 8P, Mobile Phone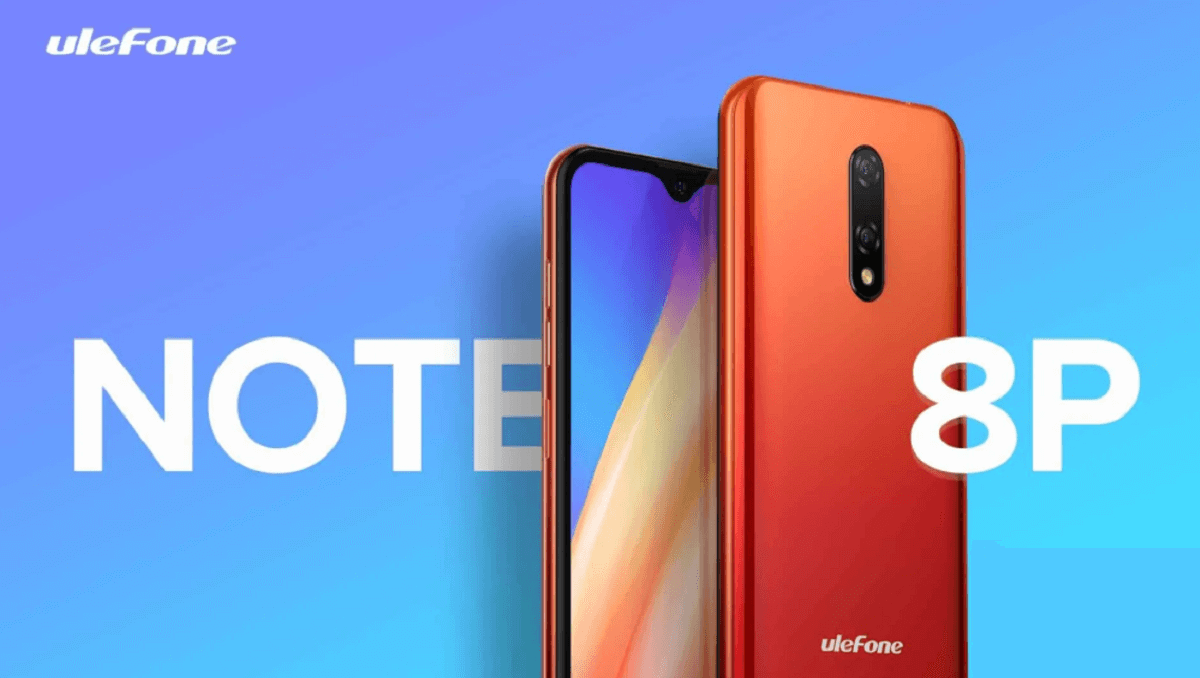 About This Item
Mobile technology companies are evolving and innovating faster than ever in the last few years, not only have we seen handsets with 5G or devices with flexible screens but there has been an influx of devices created to look similar to high-end smartphone and sold at affordable prices.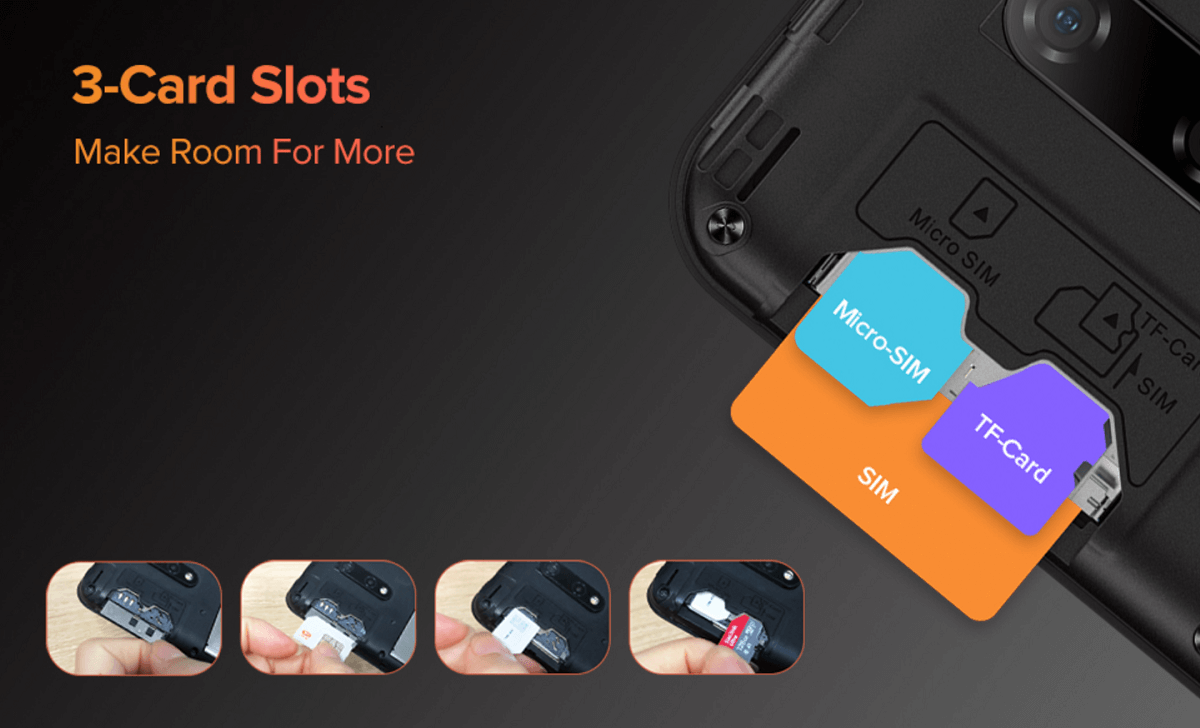 However not much has changed when it comes to Apple and Samsung dominating the market. They are very much still in the lead.
Although despite this many other unknown or less popular brands like Ulefone are manufacturing and selling excellent mobile devices. That is pleasing to the eye and meet basic requirements when it comes to hardware and its features.
The truth is there is no need to spend a fortune to find the right mobile device for you, in fact for many people a budget phone may be just what they need. Ulefone Note 8P is a budget mobile device with adequate features and an attractive style.
Firstly when you look at this Ulefone Note 8P smartphone 4G, most people would not be able to tell or realise that it is actually a budget smartphone, the phone itself has been created to look sleek and attractive.
About the Hardware and Features
[table id=30 /]
Main Features:
2GB RAM

16GB RAM to 128GB RAM memory

5-5inch display

Powered by MediaTek

Android 10 pre-installed

Water drop notch display (increased viewing area)

2,700MAH battery included

Supports 5W charging

8 MP camera on the rear

2MP secondary camera on the rear

HD video recording

5MP front-facing camera

Beauty mode

Parental mode

Simple mode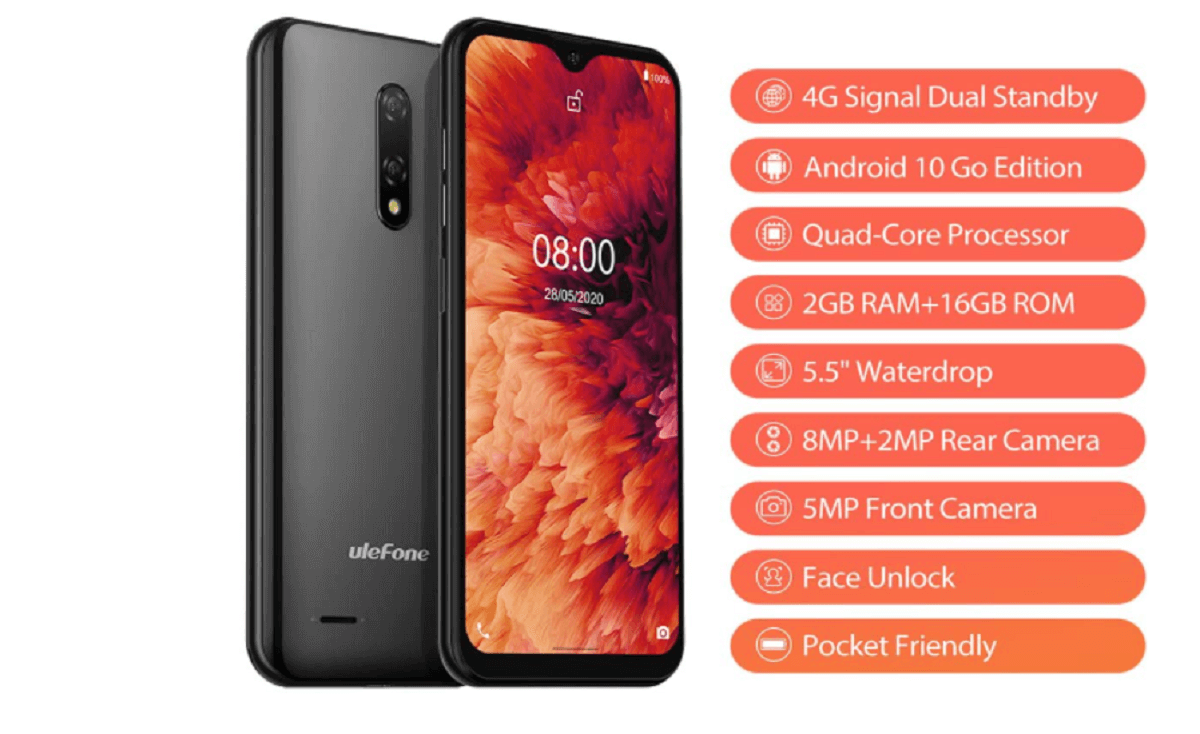 Ulefone Note 8P is the first 4G android phone with dual sim Go Edition, which is a great mobile device and high value for an affordable price of £59.98. The phone is available in Black, Green and Red and depending on the colour you choose the price may vary very slightly. This device is great value for money.
The 4G android phone Note 8P is a mid-range Android smartphone powered by MediaTek. It has a 5.5-inch display which fits perfectly in the palm. The device is a touchscreen with a resolution of only 442 × 960 pixels, which translates to 192 PPI.
The dimensions of this particular smartphone are 141.7 x 66.5 x 12 mm and weigh 153 grams. The palm-size provides comfortable hand grips for users and a convenient single-hand operation great for kids to use too. It is a durable design and makes for a great gift for kids or the elderly who may feel more comfortable with a smaller single-handed device.
The battery on this smartphone is 2700MAH with a charge of 5W via a Micro USB. Although this may not be that impressive. The specifications of the device will provide a satisfactory use to the user on a single charge.
The phone comes with 16GB of ROM this can be expanded up to 128GB using a memory SD card which you can slide into the phone. The device has a triple card slot allowing the user to have two sim cards at one time.
When it comes to the camera the phone has a dual 8MP + 2MP dual sensor at the rear of the device which features an auto focus and single LED flash. At the front, there is a single 5MP camera. with the intelligent beauty mode, this enables you to become the star of your photos and take selfies with perfection.
As mentioned before the phone is available in green, red and black which all come with dual nano sims that have 4G network support which runs the latest pre-installed android 10. it is also worth noting that the device includes a rear-facing speaker. A micro USB port at the bottom of the device.
The phone allows you to set modes such as parental modes if you have bought the phone for your child or gifting to a young person it gives the adult in the household the option to safe guard children when using the device. therefore, you can monitor and ensure they are using the device within the parameters you have set; the phone allows you to have time setting so the device will shut down for kids who have 1hour device time.
a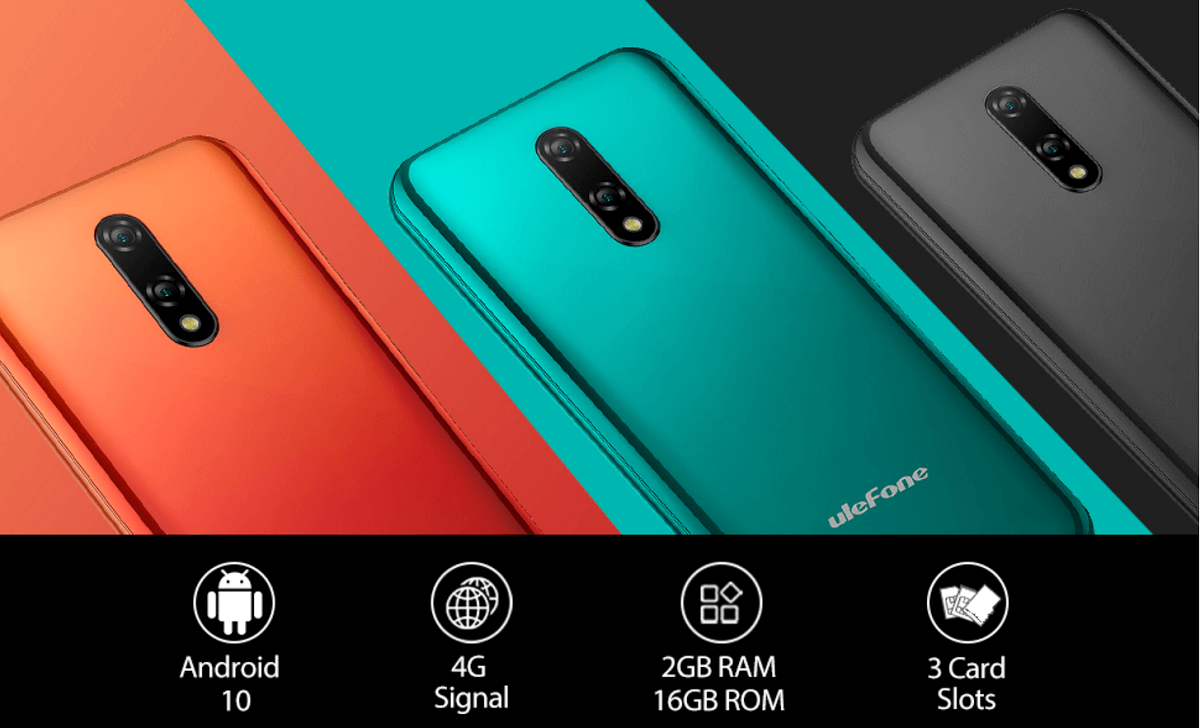 Simple mode is ideal for people of the older generation or even people hard of sight as the device will enlarge its text and icons allowing the user to see it very clearly and to read without too much of a struggle with this feature and the palm-size single hand use this is ideal for elder folk as it makes life simple for them but modern at the same time.
This phone supports 4G broadband, 2G GSM: B2/ 3/5/8; 3G WCDMA: B 1/2/5/8; 4G LTE-FDD: B1/3/3/8/8/20, and EE, O2, Vodafone, Three (TRE), Virgin, Giff Gaff, orange, T-mobile, Sky Mobile and more compatible carriers.
The triple card slot design is ideal for those wanting to use cards simultaneously. This device also has a face unlocking function, unfortunately, it does not include the fingerprint unlock. They have even included a function referred to as "Duraspeed". Which is designed to save the battery after 15minutes when the screen is locked. It comes with a two-year warranty. They even have repair centres in Europe. For those buying in these countries, you can pop to the maintenance stores if there is any fault in the phone.
You can reap the benefits of enjoying your music, films, games and social media without having to purchase an expensive phone. This is an inexpensive basic phone for all.
[table id=29 /]
[table id=28 /]
Purchasing Guide
If you are interested I purchasing this inexpensive Ulefone Note 8P smartphone visit the link provided below:
www.Amazon.co.uk/ulefonenote8P
Reviews Found Online:
[table id=27 /]
RateUsOnline Verdict
We at RateuUsOnline took the time to find an affordable high-value mobile device and found Ulefone Note 8P 4G android phone. I feel like this was a great purchase for such an affordable price, the phone was easy to set up and use. The look of the phone was sleek and attractive at first glance you wouldn't be able to tell this was not a high- end product. Although this was not high- end the phone functions great when compared to other cheaper brands.
a
It has the feature of face ID unlock the phone which I thought was great. However, it did not include the fingerprint unlock which I am more used to. It's a great gift to give to kids, ideal for me as the little ones are always borrowing my phone, and the parental mode allows for ease of mind knowing that you can set parameters in place and allow your child to use the phone without you having to supervise, and the timer setting lets you get on with your day knowing your child is not overusing the device.
Also, a great gift to give the elderly who struggle with new technology as this phone has an easy mode which enlarges the text and icons for them to see more clearly tap on the touchscreen without it accidentally clicking the wrong app. The apps work great and function very well.
As you can see, if you need a phone for the simple things like using the photo, video, calling and texting and using the internet browser and some simple apps then this is the phone for you. I personally loved using this and will definitely be getting these smartphone 4G's for my nieces and nephews.
Star Rating

I give this product a 4-star review because the Ulefone 4G smartphone is
4/ 5
Affordable in price

Easy to use for all users

Great for gifting to children and elderly

Great modes for users (parental mode/ easy mode)

Sleek and attractive phone

Triple slots

Up to 128GB of memory with Micro SD card.