Are you looking for a way to unwind and relax after a stress full day? Do you want to spend more time with your family and keep your kids active and off the couch? Well, consider installing an above-ground pool.
Unlike in-ground pools, above ground pools are feasible to install in the garden or backyard. Therefore, they make a good option for enjoying the water during the warm season.
Above ground swimming pools range from economic models to more luxurious styles. And if you opt for modern models, you will get to enjoy upgraded features often seen in-ground swimming pools. The features include advanced filtration systems and pumps to keep the pool clean.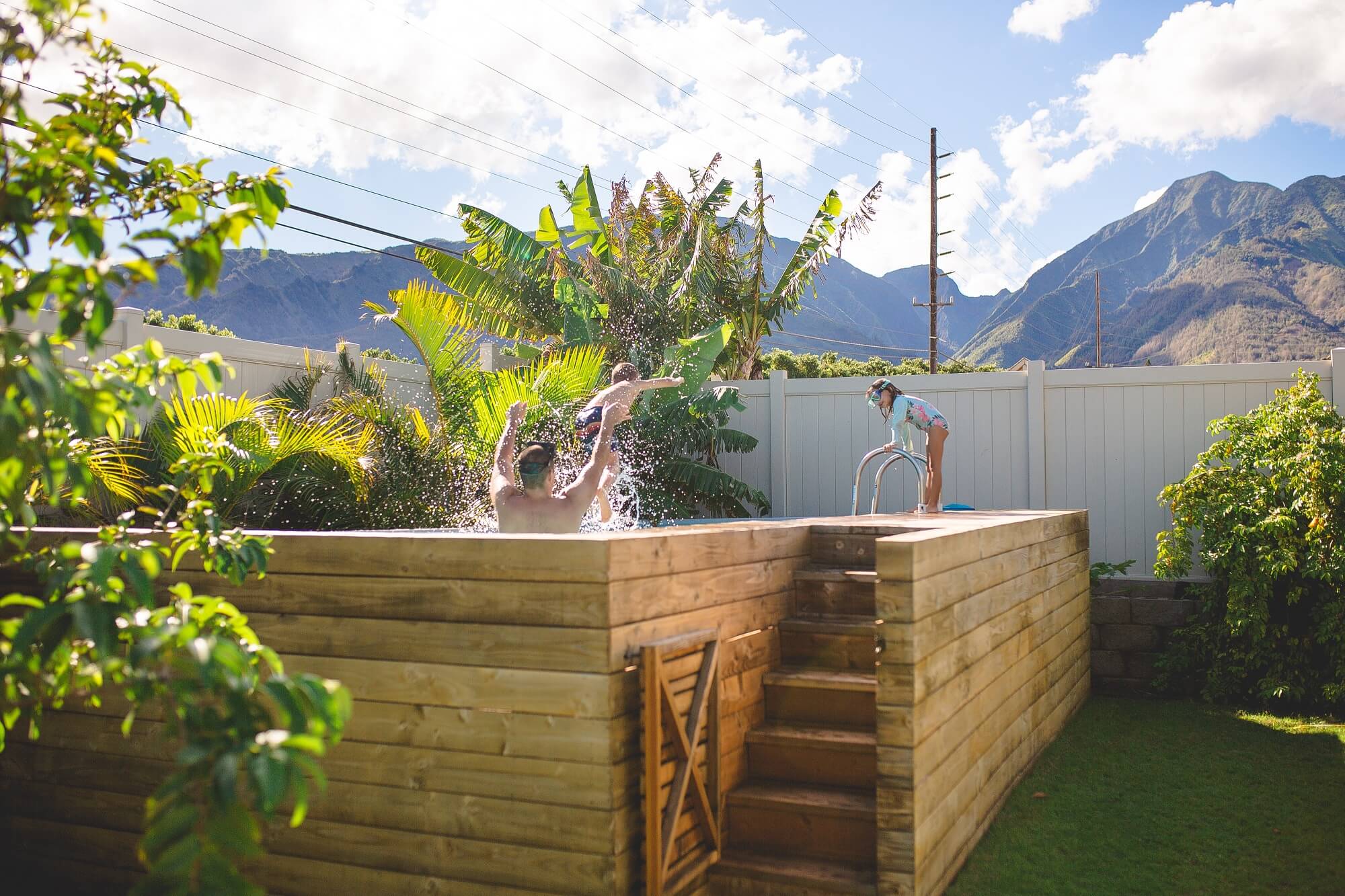 The goal of this guide is to educate you about above-ground pools. We have realized that many articles discuss in-ground pools, but there's no article discussing above-ground pools in detail.  
Here, we hope to clear the air on above-ground pools and address all questions that you may have.
That said, let's get started.
How Long Do Above the Ground Pools Last?
On average, above-ground pools UK-wide last for about ten years. But remember longevity of your pool gets determined by a variety of factors. The factors include the type of filter, type of liner, type of frame, the climate of your area, and quality of maintenance and care you put in.
Some quality well-built above-ground pools can last up to 20 years when taken care of in the right climate, while some cheap pools can last less than a day if left neglected.
The Various Type of Above Ground Pools
1. Steel Frame Pools
Steel frame pools are sturdy and constructed from galvanized steel or a mixture of zinc and aluminium. The galvanized steel gets coated with an extra thick coat of polyester paint for boosted water protection.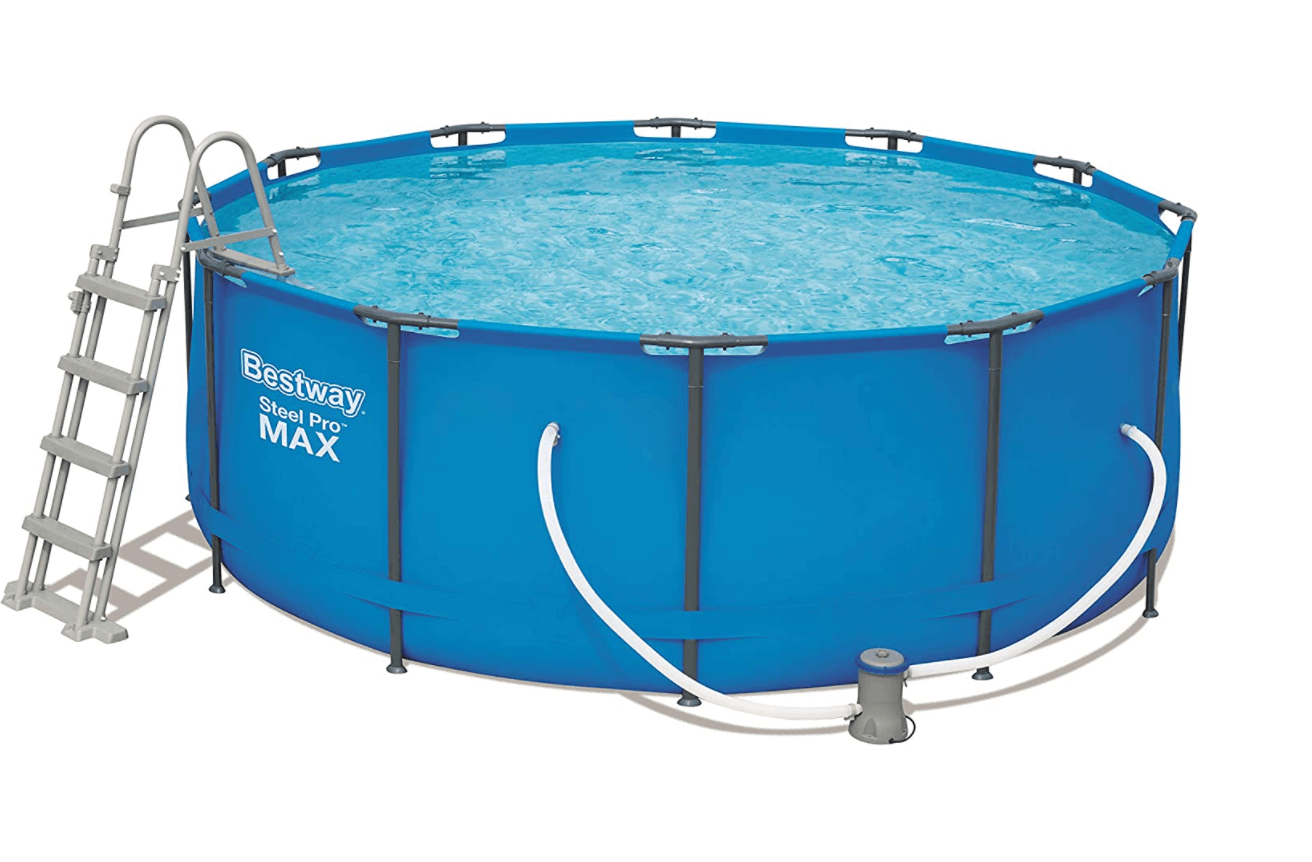 However, steel frame pools have some downside, including being susceptible to wrapping, denting, corrosion and rust. This pool can about 5 to 10 years.
2. Resin Pools
These pools are constructed using resin, a form of hard plastic.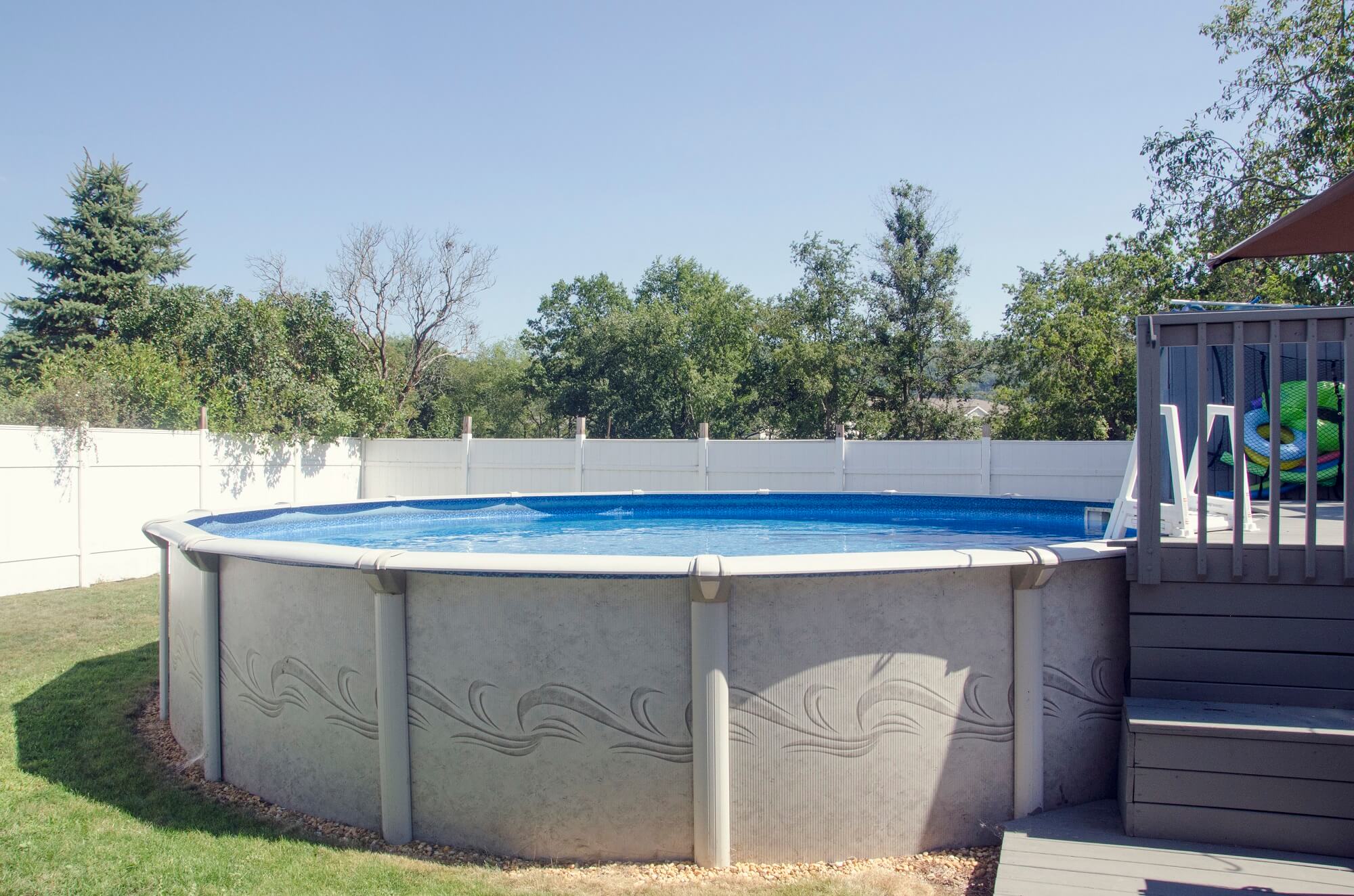 The material is resistant to damaging effects of water and sunlight like corrosion, wrapping, and rust. Besides that, the pool often remains cool to touch, meaning you can enjoy a more relaxing swimming experience. But unlike steel pools, resin pools are less sturdy. They can last between 5 to 10 years.
3. Hybrid Pools
Hybrid pools allow you to get the best of both worlds. It's designed from a combination of steel and resin. The steel keeps the pool sturdy, while resin increases the pool's durability. These pools can last between 10 to 20 years.
4. Inflatable Pools
Lastly, we have inflatable pools. They are the most affordable above ground swimming pools. However, they're delicate compared to the other pools we've mentioned. An Inflatable pool is a fun addition to your garden or backyard that you and your family can enjoy. It can last about 1 to 5 years, depending on the level of maintenance.
What Are the Best Above-Ground Swimming Pools?
If you're looking for a budget-friendly cool-down solution, we've got you covered. In this section, we have rounded up the best above-ground pools currently in the market.
1. Intex Ultra XPR Pool Set
Intex Ultra XTRY Pool Set is a durable above-ground pool constructed using galvanized steel. It also connects with a well-designed locking system, boosts the pool durability. Its interior and exterior are coated with a protective powder, which protects the pool from rust.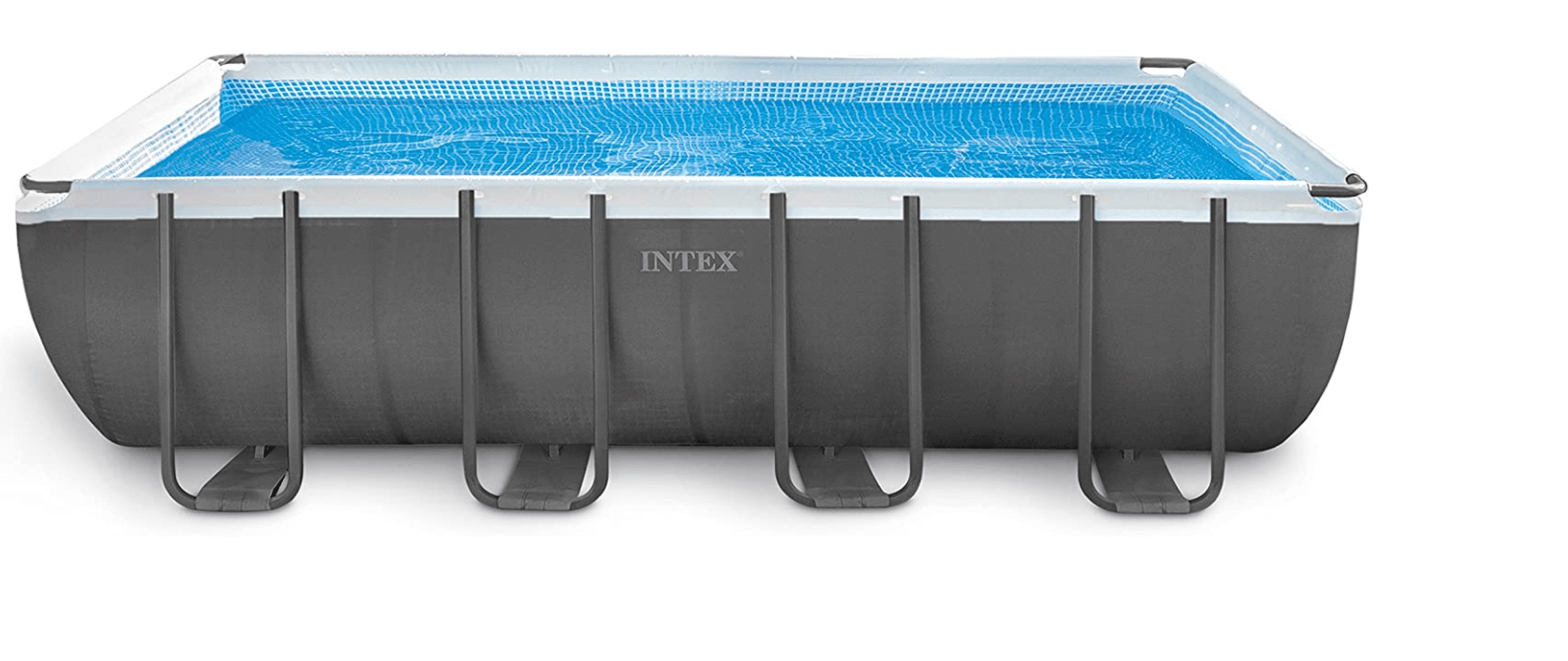 Besides the actual pool, you will also receive a sand filter pump and a ladder that features slip resistance steps.
These pool range in size and can have a capacity of 5,000 gallons.
2. Intex Ultra XRT Rectangular Pool Set
If you love above ground rectangular swimming pools, consider the Intex Ultra XRT Rectangular Pool Set. It has a depth of 52 inches, but it comes in various sizes. The set comprises a filter pump, debris cover, ground cloth, and a slip-resistant ladder.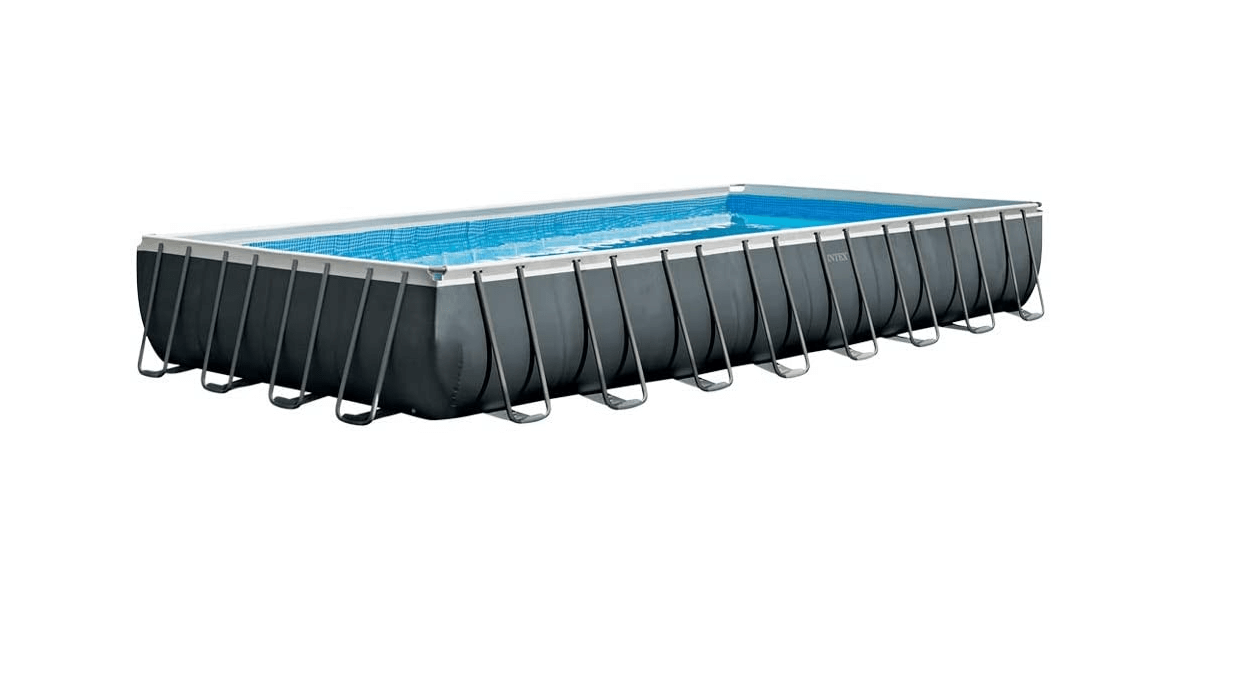 Because of the high-quality engineering of the pool, it can withstand the test of time and harsh weather. It's puncture-resistant and has a triple-ply liner to ensure water stays in. The powder-coated steel frame reinforces the walls and prevents the pools from rusting.
3. Summer Waves Inflatable Above Ground Pool
Individuals who desire quality and quick to set up above-ground pools will love the Summer Waves Inflatable Pool.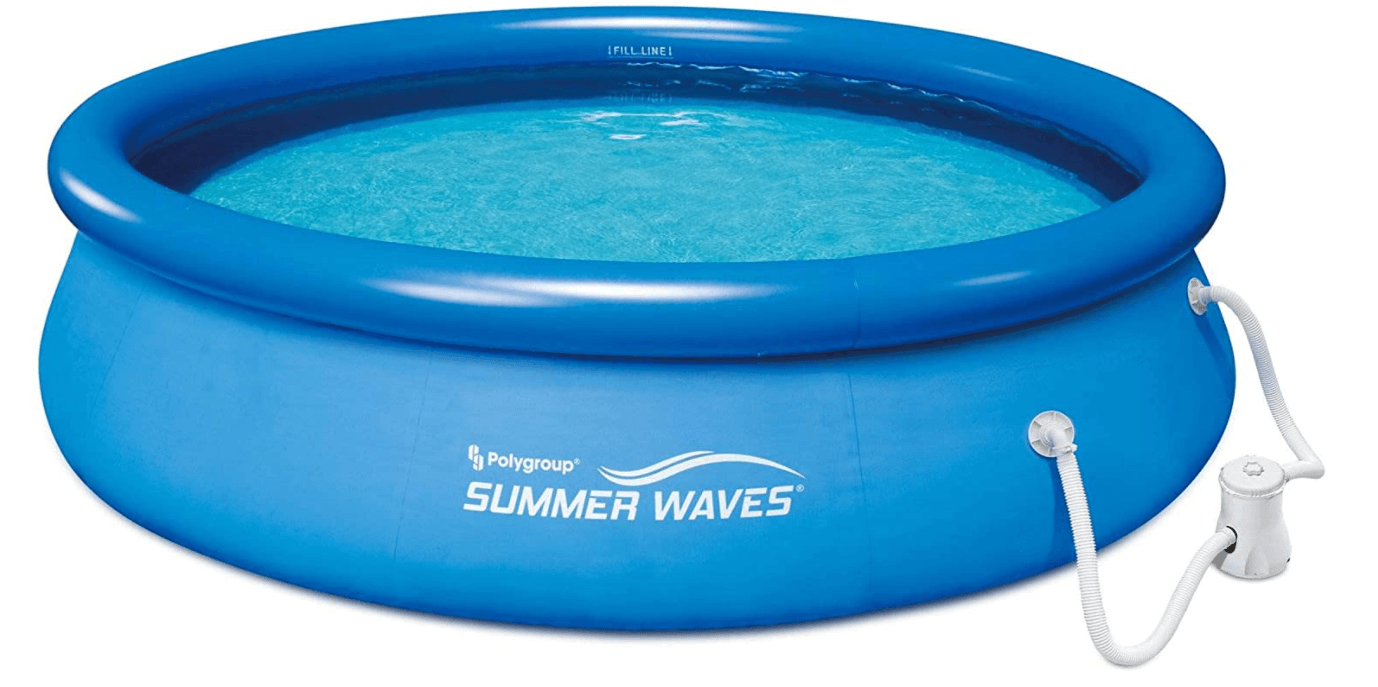 It's a circular pool that measures 96 inches (8 feet) in diameter and has a depth of 30 inches. The pool can accommodate 600 gallons of water.
Potential buyers will also receive a filter pump.
4. Coleman Power Steel Swim Vista Series II Swimming Pool
With a capacity to hold 6,100 gallons of water, the Coleman Power Steel Vista Series II is an ideal above-ground pool option for a family. It is 48 inches deep and 216 inches (118 feet) in diameter.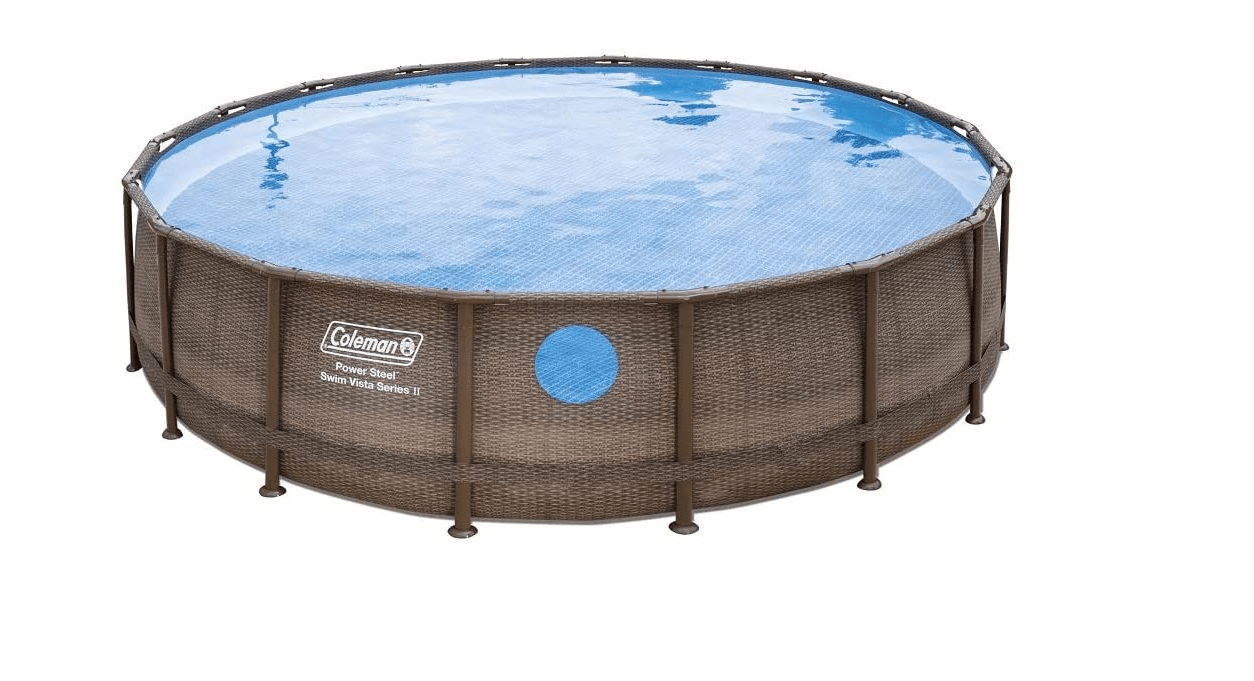 Installation of the pool is hassle-free, and you will not require any technical skills or tools. It's designed as an attractive addition to any yard.
The frame of the pool is designed from corrosion-resistant steel which supports the entire structure. Also, the puncture-resistant Trictect outer liner is tough to ensure the pool lasts longer.
How Much Should an Above-Ground Pool Cost?
Inflatable pools are the least expensive type of above-ground swimming pool you can purchase. Expect to pay between £250 to £700 for an inflatable pool. If you're looking for an inflatable pool for your kid, you can buy it for around £50.
Metal framed and resin framed pools cost more compared to inflatables because of the extra material. Typically, they cost between £500 and £1,200.
Above-ground pools made from rigid steel comes at a higher price tag because they reflect great sturdiness and durability. These pools usually cost £1100 or more.
Keep in mind the costs vary depending on the brand, size, and any extra features like above ground pool heater. Also, some pools might require professional installation, which usually runs between £1,000 to £3,000.
At an average cost of about £2,500 for an installed above-ground pool, the cost significantly beats the £30,000 price tag of an in-ground pool.
Where Do You Put an Above-Ground Pool?
An above-ground swimming pool is an impressive addition to any backyard, but it's crucial you don't overlook the basics before taking the plunge. This pool might be less expensive and less permanent than its in-ground counterpart. But that doesn't mean that it requires less consideration and planning for its location and operation.
It's vital to select the perfect location for your pool. Start by checking your local building codes to see if pools need to be installed a certain distance from septic tanks, roads, and property lines.
Try to avoid installing your pool where there are underground pipes, cables, and roots.
When selecting a site for the pool, consider:
How the pool will appear in your preferred section

The amount of privacy you desire

How will you secure the pool from wandering pets and toddlers?

How easy will it be to supervise kids?
Besides that, if you want to install a heavier duty pool like a steel frame option. You might have to do more preparation. You will want to prep your garden to accommodate the pool without flooding your lawn or killing the grass.
Consider nearby trees as well. Trees might provide shade, but also, they might keep your pool water cooler than desirable throughout summer. Trees can also drop leaves and other substance that can be a nuisance that dirties water and alter its chemical balance.
How Far Does Above Ground Pool Have to Be from The House?
To determine the perfect distance between your house and pool, you need to consider:
1. Property Lines
As we mentioned earlier, it's wise to keep your above-ground pool away from property lines and any other surrounding structures. Check zoning regulations to see if you have enough space to accommodate your pool. Zoning regulations might also affect the size of the pool you wish to install.
2. National Requirements
According to national building codes, an outdoor above-ground pool should be at least 10 feet away from the walls of the house. This helps to prevent leaking or splashing water from coming into contact with any electrical wiring and caused a short.
3. Local Rules
Homeowners also need to check building codes, local laws, and home association rules before installing their pools. Some organizations have strict rules and breaking them can result in hefty fines.
4. Dimensions of the Pool
Before setting up your pool, ensure you understand the amount of space it will require beside the pool dimension. If your desired pool will require extra support along the outer walls, it means you will need extra room to accommodate the support.
Bottom Line
An above-ground pool designed with quality materials and maintained regularly can last for ten years and above.
However, there are several factors you need to consider before setting up your pool. Available space, budget, and building regulation are just a few of them.
If you're in the market for an above-ground pool, ensure you've done your homework well. This way, you can find an above the ground pool that will not only meet your needs but also improve the aesthetics of your backyard.
With that said, we hope this guide has proven useful. Thank you for stopping by!