Recently plenty of rumours surfaced about the Apple AR glasses. It seems a lot is going on behind closed doors.

 
The truth is, these futuristic augmented reality glasses were the centre for speculations even in 2015. But, back then, they were just a far-fetched dream. It wasn't until 2019 that the project felt doable. We've got the software, the hardware, and the tech to make it happen.

 
The question is, when are we going to get our hands on these devices? How much are they going to cost, and what kind of a processor will they include? Here we will answer all your questions for you. We've compiled some handy leaks and rumours you should know about.

 
Apple AR Glasses: Release Date & Name
  • The announcement probably around late 2020
  • Release date 2022 or 2023
  • Name: "Apple Glass"
In 2019, Ming-Chi Kuo, an expert analyst in the industry, speculated that the production of the augmented reality smart glasses would most likely be on-route in late 2019 or the first quarter of 2020.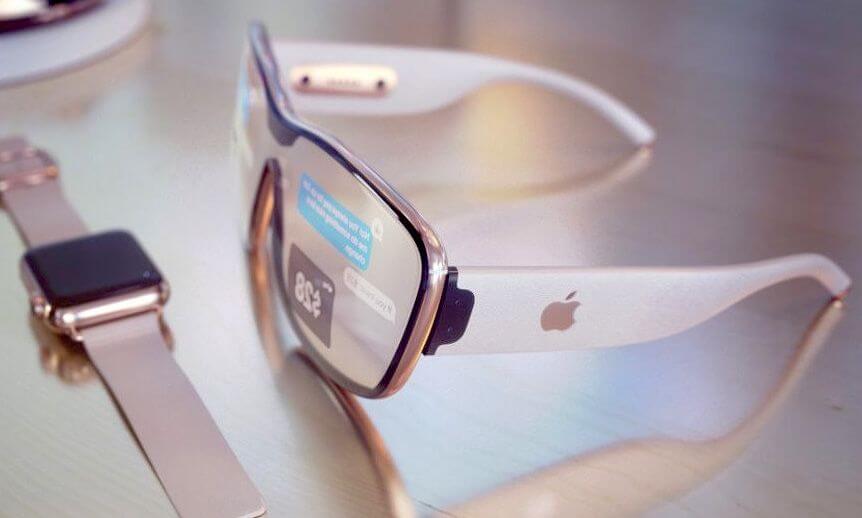 But, we are in the middle of 2020, and still no Apple AR glasses insight. So, when are we getting them?

 
There are many debates for the probable release schedule. Some of the most recent leaks might have the answers we need. Based on the info, the launch will most likely be pushed to 2022. While other sources speculate, we will get the glasses in 2023.

 
In other words, we got a long way to go before these devices are for sale.

 
But, before the products hit the stores, we should get an official announcement. This could be a handy strategy for getting the right attention. Apple might use this opportunity to get their latest devices noticed in the industry.

 
Experts speculate we would get official info at the exact same period with the iPhone 12 – the end of 2020. If Apple really wants to draw attention, they should be opting for an announcement in late 2020. Of course, there is no official info yet, so we will have to wait and see.
When it comes to the name, most people believe the company will keep it simple and easy to remember. In fact, many believe the devices will be named "Apple Glass."

 
How Much Will Apple AR Glasses Cost?
This is a very tricky question. It's impossible to sort it out without real info yet. But, some rumours speculate we won't be getting the glasses at a hefty price. In fact, we could be looking at one of the cheaper models on the market.
According to Jon Prosser, the device will cost just under $500, plus the prescription charges. But, is it really possible for Apple to cut the price so low just to beat the rest of the market?
Take a look at the price tag of the Hololens 2; it's $3,500. Of course, the device needs a lot of electronics to run correctly, which makes it pretty impractical. Apple Glass is smaller, convenient, and requires less complicated parts to work with. Something similar to what we are getting with the Vuzix Blade, which costs $799. But, a lot more practical alternative.

 
Since it doesn't need that many parts to run, Apple Glass's low price may not be as impossible as you'd think.

 
Specifications and Design
  • Touchscreen lenses
  • 8K Display
  • Plastic frame
  • LiDAR scanner
  • Adjustable brightness, opacity, focus, and visibility
The device will display info on both lenses, while the user controls the settings with gestures on the frame of the glasses. The info will then be processed by an iPhone, which the glasses will have to be connected to.

 
Based on CNET reports, the device will feature an 8K display for every eye. But, they may not have a typical camera most people are expecting to get. Instead, it will rely on a LiDAR scanner that will be responsible for enabling an AR experience.

 
Some speculate the device will come with a touchscreen that will send images directly to the user's eyes. The lenses will be manufactured to handle the images with impeccable speed and precision to not put any strain on the eyes.

 
If that's the case, we will get adjustable brightness, opacity, focus, and visibility. The touchscreen should be visible at night and day.

 
The primary goal could be to allow prescription lenses to be attached to the frame. But, there are no plans to include a sunglasses version yet.

 
The reason for that is the display. It won't be able to work so well with a tinted lens. The frame is not over-the-top either. We could be getting a plastic frame. But, there might be a more expensive version for those willing to invest in a more peculiar style.

 
When it comes to the processor, the Apple Glass will most likely have a custom-made processor. The product will be designed to send info to an iPhone. So, we might be looking at a 5-nanometer processor.

 
Another exciting feature could be the 3D mapping tech. Users can pay attention to the map while looking at the screen. This is a handy option but will have to be done correctly as not to take the concentration away.

 
Of course, all of this information should be taken with a grain of salt. We can't know for sure what we will be getting until the company releases an official announcement.

 
But, what we do know is that Apple has been picking up partners interested in AR tech. This might suggest they are preparing a product that will re-invent AR technology and take the Apple Glass to a whole new level.

 
Right now, there is a considerable team of 1,000 people working on the glasses. The company is going strong and focuses on making the best possible option for users.

 
Since the rest of the headsets currently on the market are very bulky, Apple Glass will first focus on creating a more practical model. But, how are they going to turn the lightweight design into a high-end model, we will have to wait and see.

 
Final Thoughts
While everyone is trying to wrap their minds around all these rumours, it's safe to say we are getting cutting-edge technology. It will be something that will change the way we use wearable tech.

 
If Apple wants to make a real impact, they should take their time and develop a worthy product. So far, there is no practical info yet, but hopes are running high. We can only speculate the company will deliver eyewear that will knock us off our feet. Until then, we will have to be patient and look forward to the latest smart devices.