Most serious athletes and gym enthusiasts are driven by performance and self-improvement. But a rigid and intense training routine is not enough to help them reach their ultimate goals.
Often, they encounter challenges that are hard to overcome without help. That's where a sports nutritionist or registered dietitian comes in. Nutrition and Dietetics are as crucial as cardio sessions and resistant training.
Some naturally gifted athletes have higher-performing genes. The genes allow them to overlook diet and nutrition and still be able to attain significant results. But most individuals are not so lucky; they require recommendations from sports nutritionists to boost their speed, cardiorespiratory endurance, muscular endurance, or even the ability to focus.
A sports nutritionist will check your age, level of fitness, and sometimes genetic background to determine your metabolism and help you unlock your full potential. Anyone can seek the help of a sports nutritionist, whether you're an Olympian or a gym-goer.
Have you considered searching "where can I find a sports nutritionist near me?" Then this article is for you.
Here, we have mentioned some tips to help you find a sports nutritionist who can meet all your health and exercise needs. But first, let's define sports nutrition.
What is Sports Nutrition?
Sports nutrition plays a critical role in athletic success. It helps to enhance the effects of physical activity. Sports nutrition benefits everyone, whether you are a professional athlete or a bodybuilder. Or just exercising to boost your brain function and physical health. It's a designed nutrition plan that helps athletes and adults to perform at their best.
[caption id="attachment_9097" align="alignnone" width="2000"]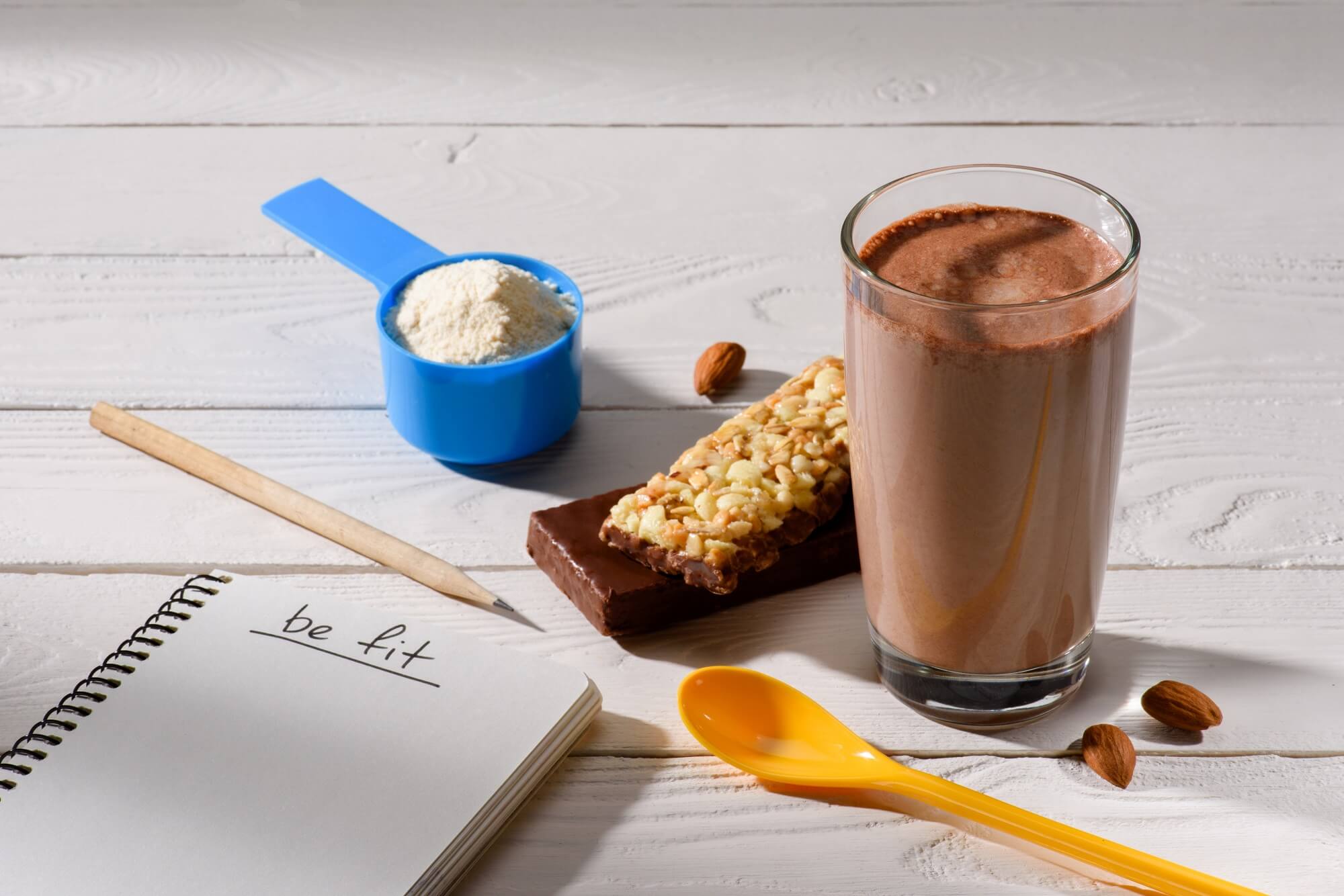 close-up shot of sports nutrition and notepad [/caption]
A nutrition plan supplies the right type of food, nutrients, fluids, and energy to keep the body hydrated and improve function. But a sports nutrition diet varies day to day, depending on your specific energy diet.
A better nutrition and hydration plan will boost performance, reduce or prevent injuries. It also promotes quick recovery. Nevertheless, you can't determine the right nutrient and diet without the help of a sports dietitian.
Professional nutritionists can offer you several services, which will allow you to meet your sporting and health needs. The services can range from daily food for workouts to extensive nutrition plans for competition and training.
Sports Nutrition Basics
The energy you need to for living and working outcomes from the food you consume and the fluids you drink. Nutrients from the following food groups supply energy to support optimal body function.
1. Carbohydrates
Carbohydrate is an essential source of energy for the human body. It can either be simple or complex. Simple carbs, including sugars, are available naturally in vegetables, fruits, and milk. Complex carbs occur in whole grain bread, most vegetables, potatoes, oats, etc.
Your body breaks down carbs into glucose and blood sugar, which provides energy to your cells, tissues, and organs.
2. Proteins
Proteins help to build and repair body tissues. They comprise a chain of amino acids and present in every cell in your body. Substantial sources of proteins include milk, poultry, fish, and meat.
Incomplete proteins are proteins derived from plants. They often lack one or more essential amino acids. Your body can't make amino acids, that is why you must derive them from protein-rich food.
3. Fats
Fats, whether saturated or unsaturated, play a vital role in the human body. They help the body absorb nutrients. Also, they act as a source of energy.
Saturated fats come from animal products such as red meat and high-fat dairy foods. Usually, they raise your LDL (bad) cholesterol levels. Thus, increasing the risk of heart disease.
Unsaturated fats come from plant sources: olive oil, nuts, and oily fish. They lower cholesterol levels and raise HDL (good) cholesterol levels. So, they are good for your health.
Why Search For A Sports Nutritionist Near Me?
A sports dietitian or nutritionist provides athletes with nutrition plans and fluid programs. The nutritionists tailor the programs to support the individual's training regimes and goals. Also, the plan helps to improve athletic performance.
[caption id="attachment_9098" align="alignnone" width="2000"]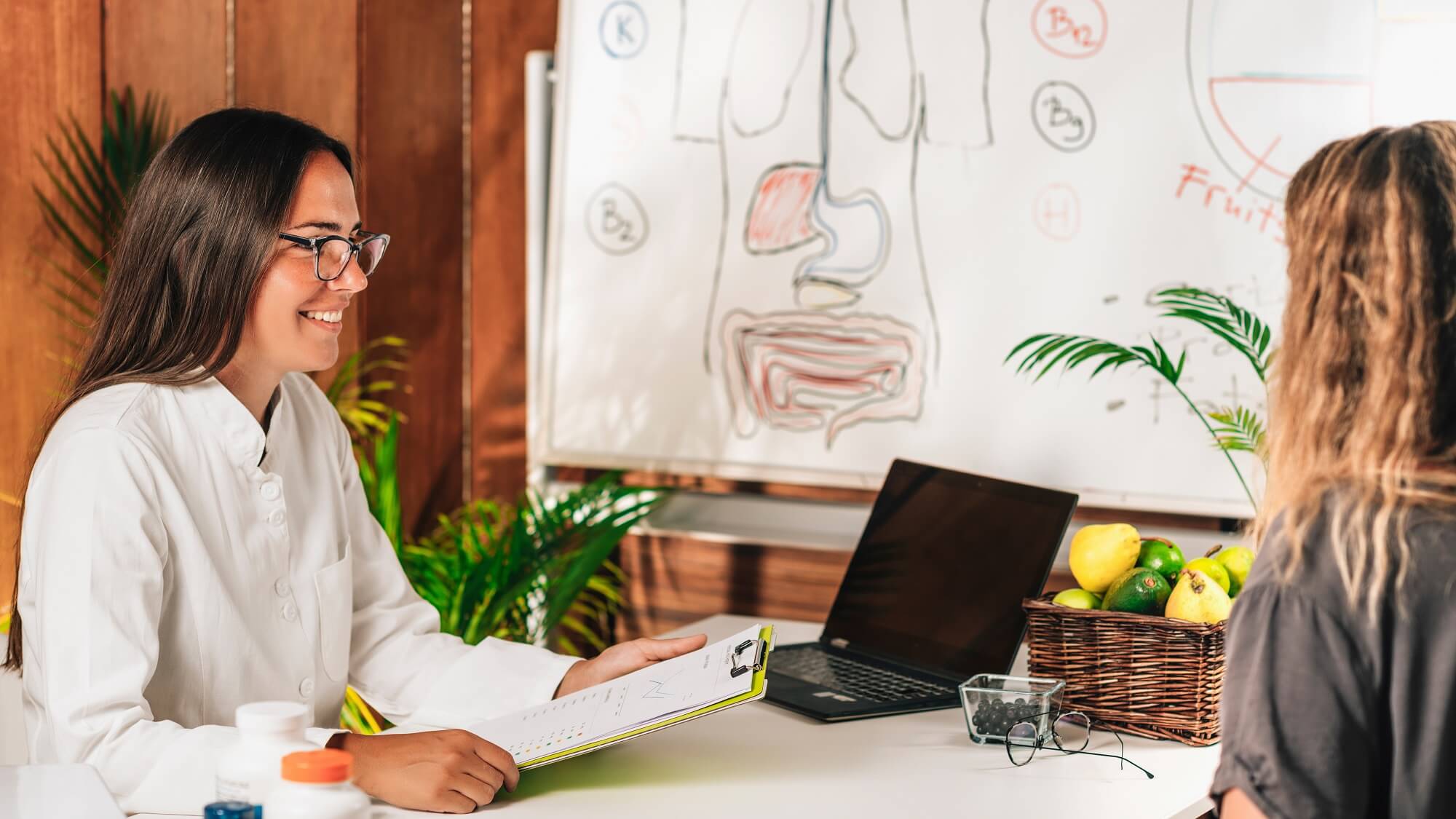 Female nutritionist advising a client in weight loss clinic[/caption]
Sports nutritionists and dietitians have knowledge in the following areas:
Counselling for health and athletic performance

Clinical nutrition

Evidence-based research

Safe and effective nutrition assessment

Sports nutrition guidance

Design and management of effective nutrition strategies

Counselling for health and athletic performance

Exercise physiology
The nutrition plan and fluid programs also provide the benefits below:
Increase energy levels

Promote good health

Improve concentration

Enhance recovery

Develop body composition and growth
To design a nutrition strategy that caters to the need of an athlete. A professional nutritionist has to access various factors. The factors include diet, supplements, day-to-day activity, and regular medication needs.
How To Find A Registered Dietitian Or Sports Nutritionist Near Me?
Nutrition is a broad science that deals with food and how it interacts with the body. Needless to say, individuals seek professional nutrition help for a variety of reasons. Some want to search for a nutritionist near me for weight loss. Others seek sports nutritionists to gain muscles and improve performance in a sport.
[caption id="attachment_9100" align="alignnone" width="2000"]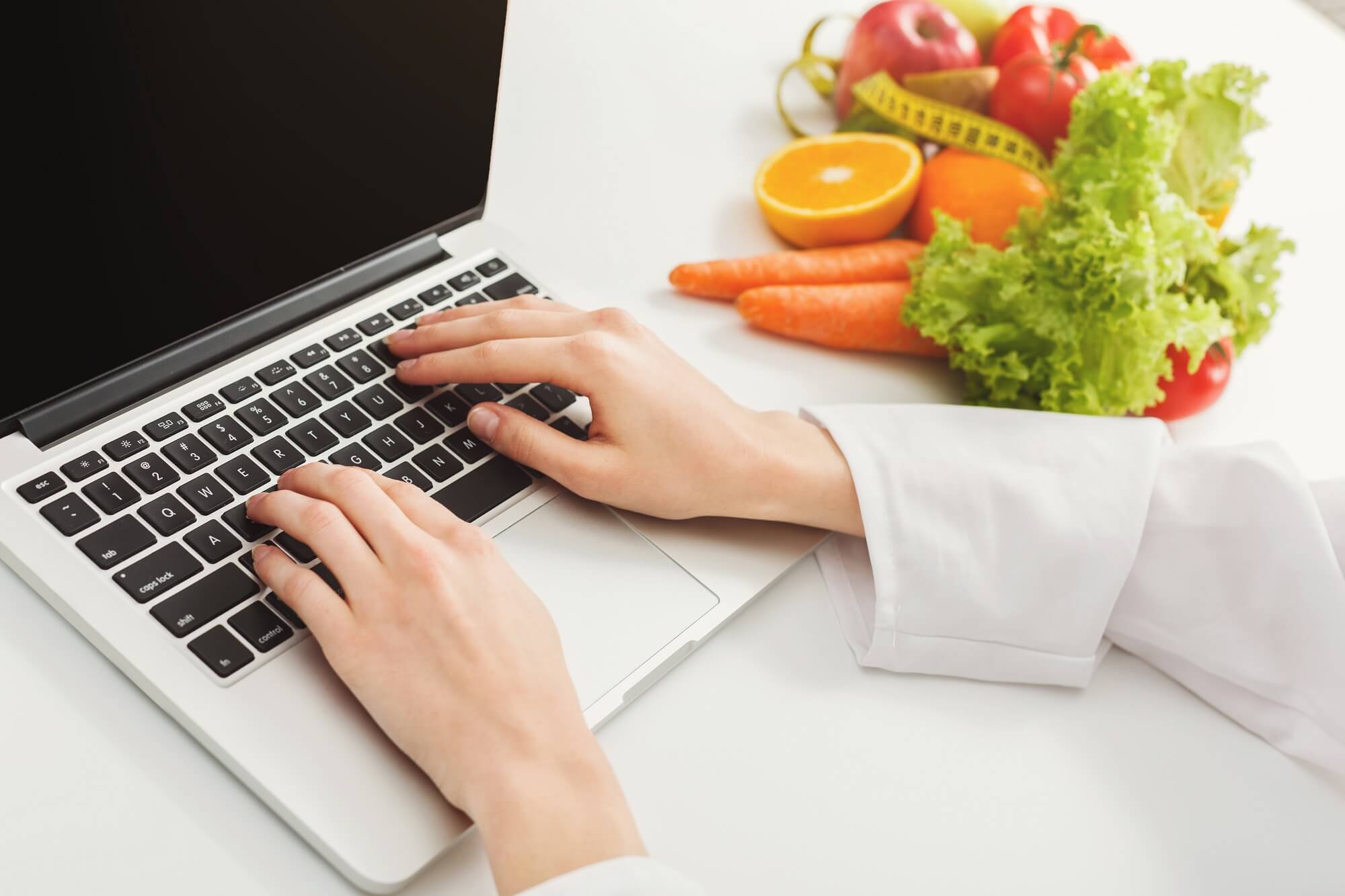 A female nutritionist working on laptop in the office, close up.[/caption]
Within the nutrition realm, all these are realistic goals that affect the type of professional you seek.
Here are a few tips to help you find a registered dietitian or nutritionist:
1. Credentials and Experience
Many believe nutritionists are qualified to give solid, healthy eating advice and recommendations. But that's not the case: Anyone can call themselves a nutritionist or nutrition coach. Law or regulation does not control the title, and you don't require a license to practice it. Anyone can get a certificate in a matter of hours or even minutes online.
But Registered Dietitians (RD) are certified to offer nutritional advice. These individuals do a yearlong internship similar in format to a medical residency. Also, they must pass a tough national licensing exam.
RDs have an advanced degree in dietetics and are trained extensively in medical nutritional therapy. They offer nutritional support for disease management in hospitals, schools, and outpatient settings.
When looking for a personal nutritionist, consider working with an R. D or R.D. N with enough experience.
2. Specialist or Approach
Some R. D and R.D. N may have a specialization or additional degree and certifications.
Sports dietitians often work with athletes and gym enthusiasts. They possess a Certified Specialist in Sports Dietetics (CSSD) credential. Dietitians with Certified Diabetes Educators (CDE) work with diabetic individuals.
Personal nutritionists have a Certified Personal Trainer (CPT) and Certified Strength and Conditioning Specialist (CSCS) credentials.
While some dietitians will write diet plans for you, others will focus on your behaviour rather than your macronutrient and calorie count.
What's even better, some dietitians have certifications and degrees in social work, psychology (M.A., Ph.D., M.S.), or counselling. As a result, they're qualified to address your physical needs, mental needs, and more.
3. Ask for referrals
In a world where anyone can call themselves a nutritionist, it's wise to seek referrals from a trusted healthcare provider. So instead of just going to Google and searching for "Sports Nutritionist near me", ask someone. For example, your physician might have a relationship with a qualified nutritionist or dietitian. 
Other places you can find trustworthy referrals include:
Local hospital: Local hospitals employ registered dietitian nutritionists who offer nutritional counselling services. Also, they work with other dietitians in the community.
Local public health departments: The departments usually host several nutrition programs. So they already have an established relationship with local dietitians.
Schools: Local colleges and universities have doctorate-level nutritional professionals who teach future nutritionists.
Fitness Centres and Sports Teams: Many registered dietitians run their own fitness centres. In fitness centres, you can find a sports nutritionist who can help you with your needs. College teams also hire a professional dietitian. Dietitians develop menu plans for weight management performance enhancement, recovery, and nutrition therapy.
4. Ask Questions
Whether your key searches are holistic nutritionist near me, sports nutritionist near me or a sports dietitian, please research and ask detailed questions. Asking questions allows you to learn more about the dietitian's area of expertise and coaching style. Questions to ask include:
1. What I can expect from a session?
2. How many sessions will we need before we see some results?
3. What type of clients do you work with?
5. Reputation
Today, with the prevalence of social media and blogs, it's not that hard to determine a nutritionist's reputation.
Furthermore, any content they have produced, written or otherwise, will help you make an informed decision about whether he or she would be a perfect match for you.
It's clever to contact clients a dietitian has worked with to get an understanding of what you're going to receive.
Ultimately, everything boils down to your particular needs. What do you want a registered dietitian to help you with? Will a nutritionist match your goals?
Final Thoughts
Finding a registered sports nutritionist near me is no easy work. But these few tips can take the guesswork out of finding a specialist. And set you on a path toward good health, increased performance, and self-improvement.
While not everyone responds to advice or suggestions, having something in place gives you a chance to tap into an amazing part of sports performance and health improvement.