[video width="1280" height="720" mp4="https://cmsapi.rateusonline.com/public/uploads/2019/02/How_to_Reinvent_Your_Business_through_So2.mp4"][/video]
Domino's Pizza is a renowned brand in the fast-food industry. The pizzeria began its operations during the 1960s, and in 2017, it was reported to be one of the biggest pizza chains in the world. While there are several other food brands that were popular in the 20th century, not everyone could achieve the success that Domino did. So, what did they do differently?
The management at Domino's realized that in order to adapt to the changing customer trends, they need the might of social media marketing. Hence, from early on, the company decided to use Twitter and YouTube. They also used Instagram marketing for restaurants to promote their products and services.
However, Domino's was not all about promotions. They leveraged social media marketing for restaurants to improve their customer feedback and retention rates. Customers were encouraged to communicate their complaints by messaging the brand directly or tweeting about it. Whether a client got the wrong topping or a cold pizza delivered, the process allowed the company to address client grievances in real-time as each customer was treated separately. As a result, its customers began feeling more valued.
[caption id="attachment_9310" align="alignnone" width="2000"]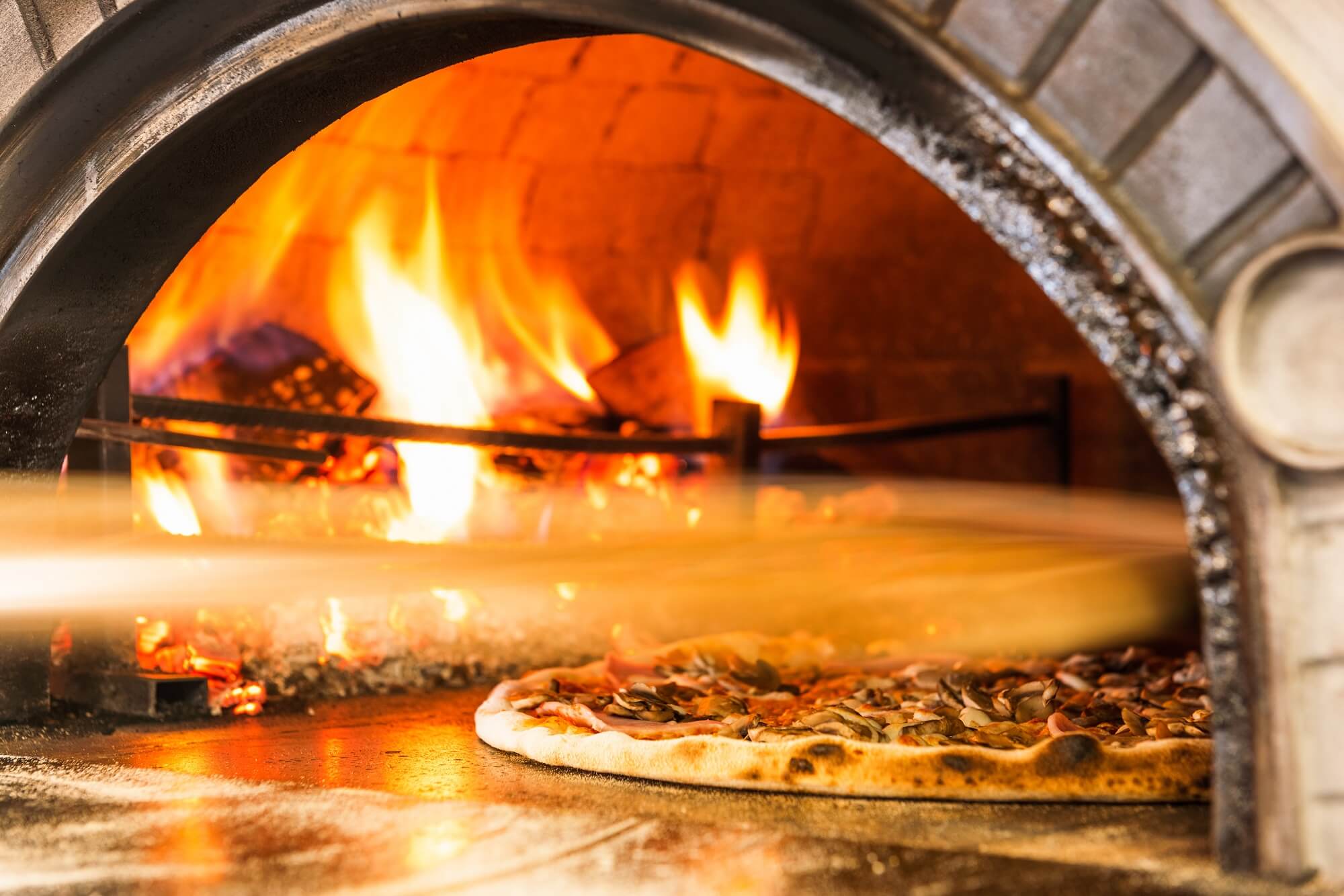 Pizza Restaurant. Making Classic Pizza.[/caption]
By the beginning of 2010, Domino's became more and more reliant on social media as highlighted by the company's aim to double its online sales within the next five years. To do this, they allowed users to order pizza by using the pizza slice emoji on Twitter with the #EasyOrder hashtag. Incorporating social media features like emoji made a noticeable impact as young adults began to form a bond with the brand.
Social media marketing for restaurants was ultimately successful. Within a short period of time, the company improved its online sales by 50% while increasing impressions on social media.
READ ALSO: SOCIAL MEDIA MARKETING IDEAS FOR RESTAURANTS TO PROMOTE THEIR SIGNATURE DISH
Learning from Domino's
Domino's may belong to the fast-food industry, but Domino's examples have highlighted to businesses from all sectors how useful social media marketing for restaurants can become in re-vitalizing and improving the revenues of a business.
[caption id="attachment_9311" align="alignnone" width="2000"]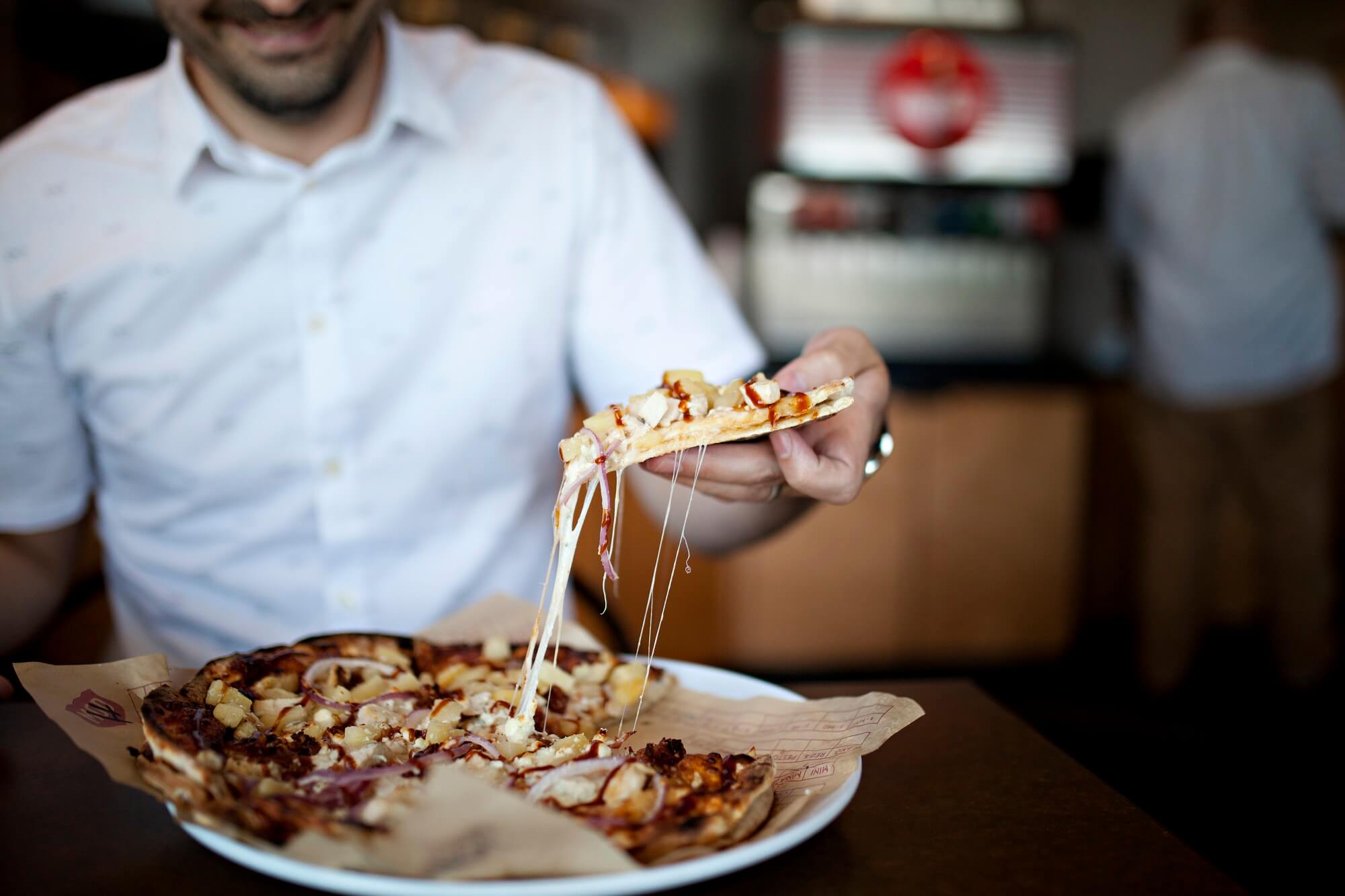 Man holding a pizza[/caption]
So let's consider how dominos used social media marketing for restaurants, to help you reinvent your business.
Use the latest trends. These trends may have a short life span but if they are used effectively, then they can help your brand to grow quicker.

Trying to tempt users through a single post is counter-productive. All of your posts must be personalized to address a specific target audience.

Post discounts and vouchers on social media pages.

Competitor analysis is always rewarding. Check out your competitors and identify if they are being successful with specific social media marketing

Invest in a social media analytics tool to monitor and track your customer engagement statistics.
Ways To Use Instagram Marketing For Restaurants
Domino's used many strategies to grow its business using social media. So to help your business out here are a few Instagram marketing tips for restaurants.
1. Have a Clear Profile and Be Searchable
First of all, make sure that your profile is easy to understand. This means that your profile description must have enough information about your business, to improve the chances of Instagram accounts following you. If you review all accounts with many followers they use this simple strategy.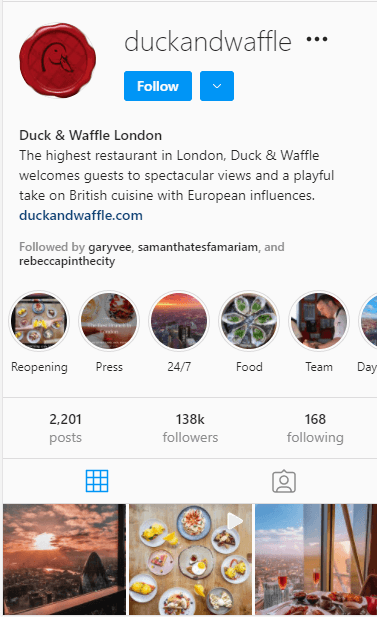 Select a recognizable Instagram username, and use relevant keywords in your profile to help increase your search results. Tag posts with hashtags, and be sure to make them relevant to your brand, image, and location so users can find you.
2. Interact With Followers and Reward Them 
This is one of the best ways to use Instagram marketing for restaurants. If you have a new Instagram account, comment on other user's posts. Create a relationship, have conversations. You will find the more you do this, the more these users will begin to follow you. As your account grows, you will find that not only will you gain a lot of likes, but your users will comment and share your posts.
As soon as you build up a decent following, you should have a competition or a giveaway. This will increase the exposure of your restaurant and you can give away something related to your business. The great thing about this is that you can ask the winner of the competition or giveaway for their opinion of your service too. They can even provide a review of your restaurant, this will also improve your brand awareness.
3. Reward Customer Shares
Another effective way to use Instagram marketing for restaurants is to reward accounts who share your content. For example encourage Instagram users with more than 500 followers to post a photo that mentions your restaurant, and reward them with a free treat! After all, they just advertised your restaurant to potential customers for free. This will improve your brand awareness, at a very low cost. 
5 Methods That Can Reinvent Your Brand Through Social Media Marketing
Renowned brands have already figured out the impact of building a powerful online presence. Now social media has turned into a new battleground for giants, creating solid customer engagement and marketing opportunities. As the backbone of every advertising strategy, when used properly, digital marketing can reinvent your business in more ways than one.
Social media generates more awareness and customer engagement. Through adequate online influence, even the smallest company can interact with a much broader audience. Social media creates a dynamic that establishes a dominant online presence, dialogue with potential clients, and new prospects to tackle the competition. 
Take Uber, for example. Around 84% of customers decide what to buy based on their friend's recommendation. Uber harnessed this opportunity by providing incentives to riders in exchange for social media shares. The outcome? With minimal advertising, Uber turned from a verb to an actual noun, taking over the transportation service sector. 
Want to know the most effective social media strategies? Here are a couple of tips to get you started.
1. Choose Marketing Platforms Based on Your Target Audience
According to B2B marketers with high levels of content marketing successes, the two factors that contribute to that success are the value their content provides (83%) and website changes (60%) they use.
[caption id="attachment_9309" align="alignnone" width="2000"]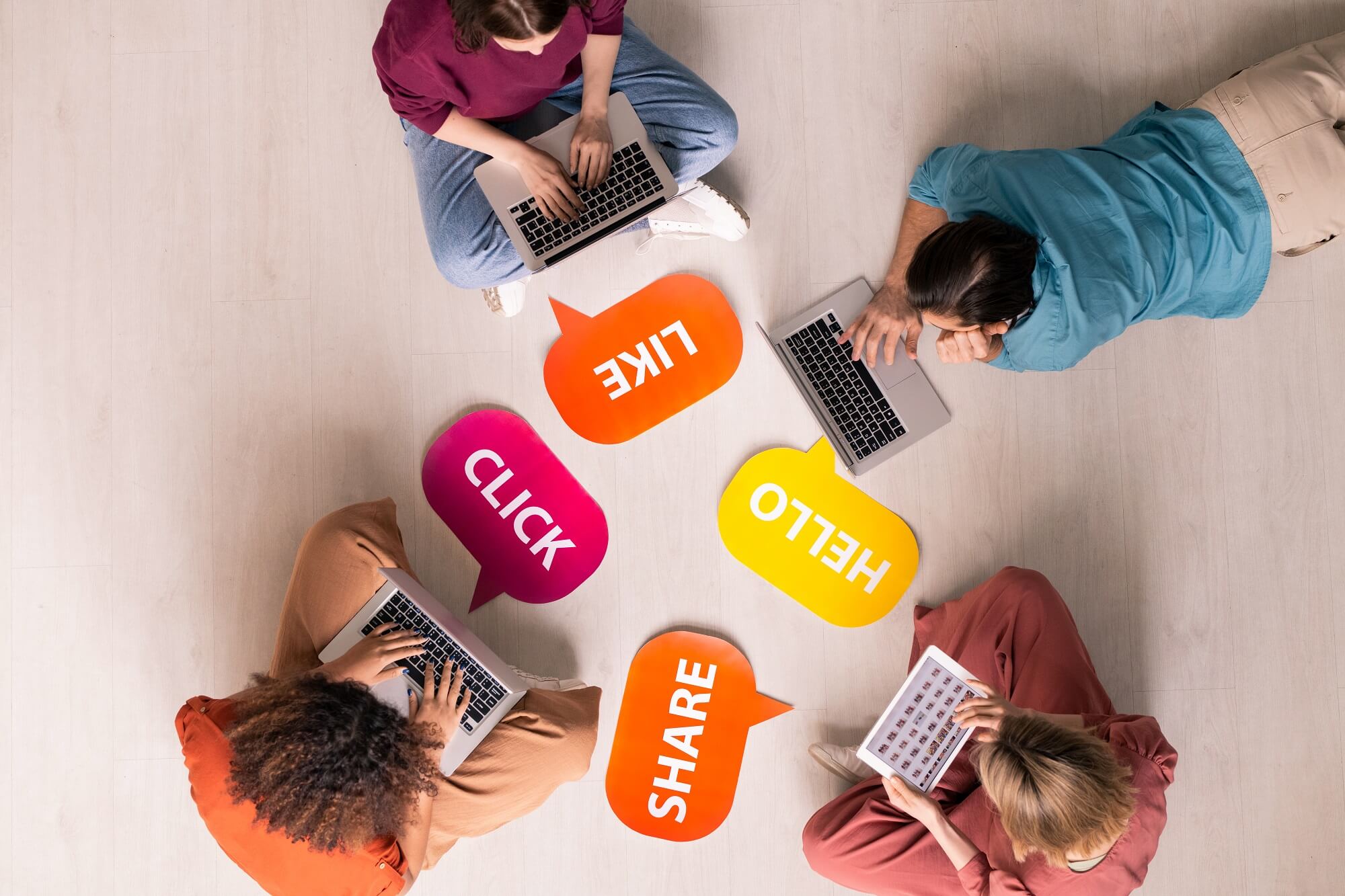 young people sitting using social media[/caption]
But, regardless of how good your content or product might be, if you don't choose an appropriate platform to advertise your services, your tactics will create limited success. A major part of successfully using social media is identifying the personalities of your business and your target audience – then selecting an optimal platform to build that business.
Uber partnered up with top fashion, travel, and lifestyle Instagram influencers. To promote the service in NYC, influencers created sponsored NYC-centric posts to garner more attention and boost awareness. In just a couple of years, the company generated 5 billion trips and expanded into different ventures, such as large-scale shipping and meal delivery. 
The same tactic can be used on other social media platforms. Take Facebook, for instance. When you create a Facebook business page, you carry your brand's identity with it. With a proper timeline and images, you can make your business easily recognizable to customers.
2. Stay On Top of the Game
Knowing the competitors and what they offer can help you create a worthy service that stands out. You can set competitive prices, respond to marketing campaigns, but most importantly you can take your social media marketing to the next level. 
If the competition has a simple website, you can create SEO-optimized content. Their website design may be lacking, so you can boost the site's speed and update better content. If their site uses only written content, you can create ebooks, infographics, guides, and other visual content. The list goes on and on.
Why? Data shows that 92.96% of global traffic comes from Google Images, Google Search, and Google maps. SEO creates over 1,000% more traffic than an organic social media presence, meaning that it can become a worthwhile social media food marketing strategy.  
With an approach such as this one, potential clients will be more inclined to take a look at your business, rather than the competition. But, do have in mind that trends change quickly. It's up to you to stay informed and utilize the latest technology and advertising opportunities to your advantage. So, make sure you never get left behind.
3. Don't Make Drastic Changes to a Strategy That Already Works
By reviewing your social media plan, you can assess its performance. You will know exactly what's working and what shouldn't be used. However, to maximize the campaign, you need to know which areas could improve and which are better left intact. 
For instance, you can:
Focus more of your efforts on the most popular platforms that work well for your brand. Like creating YouTube videos over posting content on Twitter, if the business does better with video content. 

Use all the analytics and measuring tools at your disposal. Test different strategies to see whether they work. You can experiment by using a variety of content to attract more audiences, without going overboard.
The strategy you do select should be adaptable and flexible to your business model. You can tweak the digital advertisement, but still, create something people are familiar with. Consistent posting instead of cramming can help you achieve that. For example, if you have a restaurant, you can use a similar strategy that Dominos used.
The Instagram marketing strategy they used consisted of partnering up with influencers or flood bloggers. They also created a hashtag and story highlights. 
Remember, consistency increases the company's authority, but spamming creates only negative opinions. The by-product of online social media spam is a disengaged community. It doesn't leave any room for conversation. Only puts them away.
4. Repurpose the Content You Have
To maximize your efforts, you need a budget-friendly approach. Facebook marketing is all about repurposing content. Let's say you've created an infographic that was well-received. It was a while back, but it created a lot of positive engagement. 
After some time, you can repurpose that infographic and promote it to create an even bigger number of followers. With good quality audio or visual presentations, you can get the attention you are looking for, without spending too many resources.
5. Show Compassion
Today customers don't want to be "sold to", they want to be understood and trust the brand. They can be upset when there isn't enough communication or genuine empathy from the company they want to buy from. They can be taken aback by that lack of communication, and choose a different brand instead of yours. 
According to the Entrepreneur, compassion beats selfishness, particularly with social media marketing. You can use it to create lasting customer loyalty. The use of compassion in online marketing campaigns is not just about feeling good with customers. 
It's about making sure that marketer's step into the shoes of their audience and understand their needs and wants. As a result, they get to create a loyal client base and better odds of success. To start using empathy when focusing on social media marketing, you should become more proactive with your target audience. Do regular research rather than an educated guess, to see what it is that customers really want. Doing in-depth buyer persona research can give you that empathetic insight you've been looking for. 
Final Thoughts
Every business is trying to do its best to outshine its competition. But, with this kind of adversity, there is always an opportunity to adapt and evolve. Whether you are a brand or individual, you can use the latest technology to reinvent your business. Domino has proven that Social media marketing for restaurants can work for any business. Social media marketing gives sustainability, attention, and an excellent option for success. Now that you know the five ways you can use it, you can revamp your business.