The gym industry has come to a halt.
With no accurate timeline when gyms are going to re-open in all countries, it has inspired countless fitness enthusiasts to start exercising at home. But, the question is, how to workout at home just as you would at the gym?
It's easy to decide to do a home workout, but it can be a little tricky to get proper results. If you have some handy training equipment sitting at home and collecting dust, you are in for a treat. We compiled a practical guideline on how to make a home workout plan in no-time. So, let's get right to it.

 

Do Home Workouts Work?
The current pandemic has put a serious strain on our exercising routine. People who used to regularly go to the gym, now can't expose themselves to the virus. Which is why many of us are stuck at home. The longer the virus remains a problem, the more extra pounds will keep piling up.

 
Eventually, all the effort you've put into having a fit body will go down the drain. Before you start exercising, we decided to weigh out the pros and cons of a home workout.

 
Pros:
You will maintain your tip-top shape

No need to spend a hefty sum on equipment.

You save on travelling costs

It's convenient

No need to wait in queues
Cons:
It takes more work and imagination to get the desired effect.

You won't have the supervision of a professional trainer.

Less equipment to work with
How to Workout at Home?
Do you have some weights lying around and you want to use them? Before you do home workouts, try to find all the equipment you have. Then, you can come up with a well-designed plan.

 
How To Make A Home Workout Plan
To figure out how to make a home workout plan, you will need three things: a proper schedule, a healthy routine, and basic workouts. Start with a piece of paper and draft your workout schedule. Pick the day and time you plan to exercise.
What you need is a 4-week training plan that's made up of 3 workouts in 1 week. Leave some free time for rest and recuperation. Pick the days that suit you best. For this session, we've decided to choose Friday, Monday, and Wednesday for exercises.

 
That way you can take a day off for the weekend.

 
The key to a successful workout at home is to leave one day for rest between each exercise session. If you want to use weights, you can implement them in every session you like. This will help speed up the process.

 
Workout Food
Once you've planned out the schedule, pick the foods. Choose proteins, omega-3 fatty acids, vitamins, and minerals. Cook healthy and nutritious meals that will back up all the workouts you are about to do.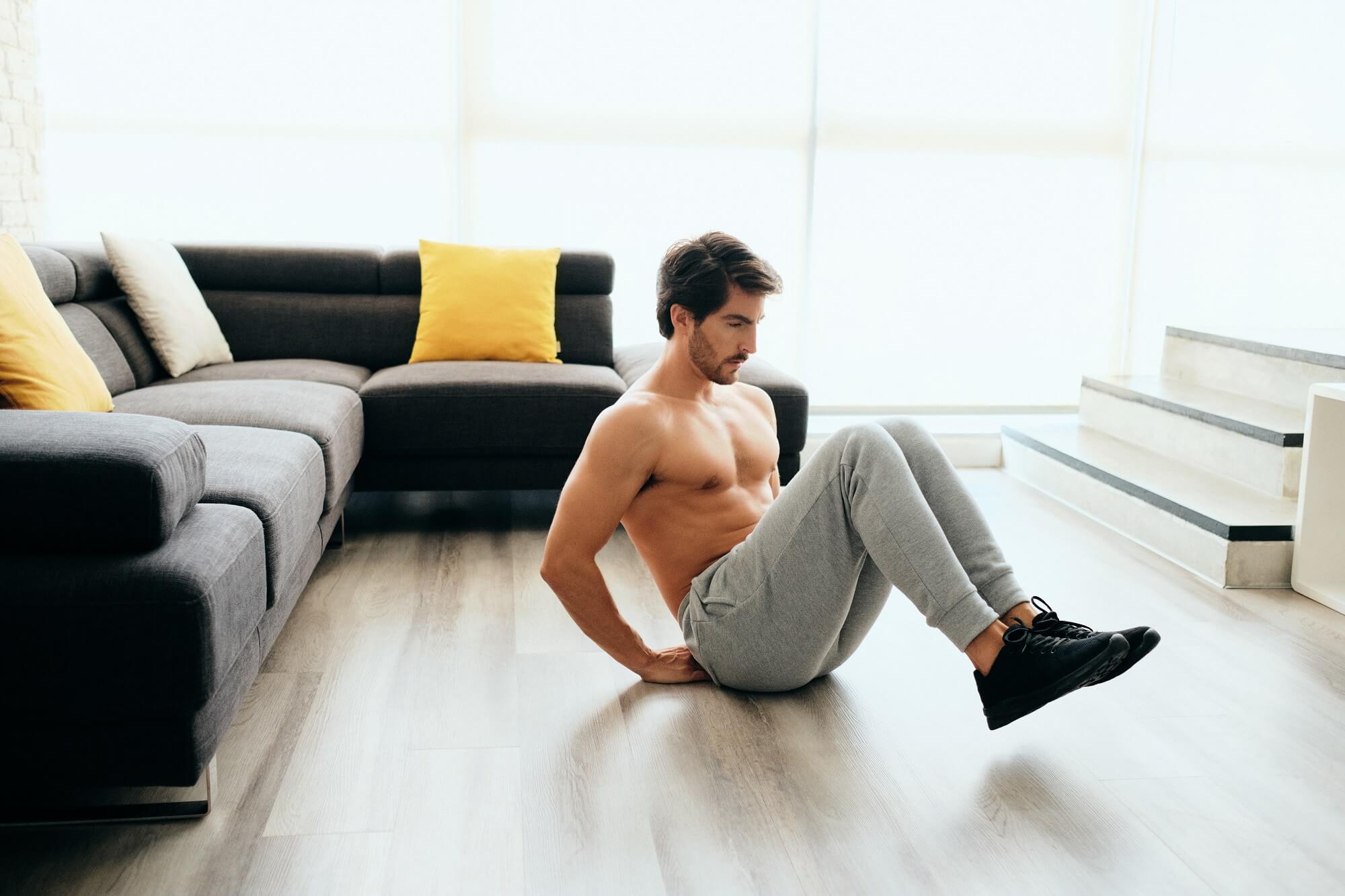 Then, it's exercising time. Here are a few exercise examples with dumbbells, bands, or a medicine ball:
Goblet Squat: Stand upright and position the feet a little wider than the shoulders. Take a dumbbell and hold it with both hands between the legs. Push the body downwards and upwards in a sitting position.
Seated Band Bicep Workout: Sit on a stable surface either a chair or a stool with the feet apart. Position one end of the band under the feet and lean forward. Hold the free end of the band with one hand, while resting the elbow of the other and do a bicep curl. Pull the band toward the shoulder. Repeat the same process with the other hand.
V-up Medicine Ball Workout: Lie down with the legs extended straight. Take the ball and grab it with both hands. Stretch the arms above the head and reach for the feet while holding the ball. Lift the feet up with the knees straight the same moment you are reaching with the hands. Your body will form a V-like position.

 
How to Workout at Home Without Equipment or Weights?
You don't have any fitness equipment at hand? No problem! There are still plenty of exercises you can do without the tools. We compiled a practical workout session with a few options you can try. Here is an example of what you need for a home workout.
[table id=2 /]
Will I Get the Effects I Need?
Yes! Working out at home will still get you the benefits you are looking for. It's effective, convenient, and efficient. You just have to put your back into it. Regardless of whether or not you have some fitness equipment, exercising at home can always come in handy. It might seem like a daunting process at first, but it's absolutely worth it.

 
Final Thoughts
Doing some physical activity at home may not be the most motivational way to stay in shape, but it is a practical solution in these difficult times. You have the option to tailor the schedule to your needs and create the results you are looking for. Do as many reps as you need and don't forget to do a proper warm-up before exercise.

 
Enjoy your next at-home fitness session!