Modern-day smartphones are becoming more accessible to a broader range of people than ever before. One of the most common features you'll find on a current mobile phone is the AI assistant. Android users get to enjoy all the benefits you could have from their virtual assistant, known as the Google Assistant! Recently though, Google has given a sneak peek of a new feature that'll make modern phones even more accessible! The new Google Assistant "Read It" feature essentially allows android phones to read out entire web pages out aloud.
[caption id="attachment_3490" align="alignnone" width="2000"]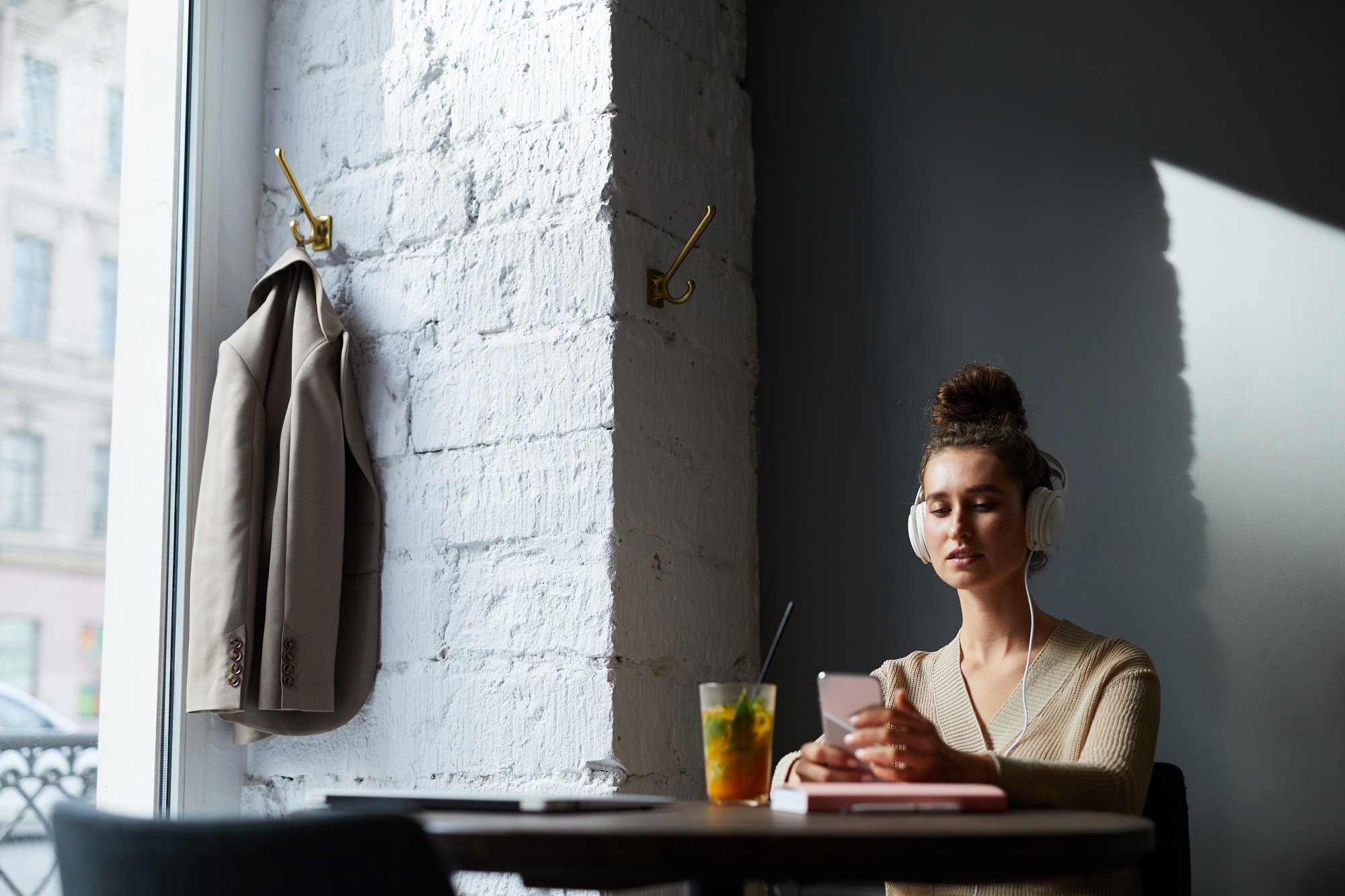 A pretty young woman using headphones looking through content on her smartphone[/caption]
Google Assistant New Feature Called "Read It"
The name of this new feature is Read it, and it can primarily read out web pages in 42 different languages. Everything present on the internet is now effectively an E-book. Launching a new service is incredibly easy. All you have to do is, say "Hey Google, read this page" once you're on the respective web page.
The feature is slowly making its way towards all android phones on the market and provides users with a few other exciting advantages. One is that whenever you're using the feature, it highlights words it reads aloud. This allows you to keep track of wherever you are on the web page. Furthermore, you can even alter the speed at which the playback occurs. Users can tweak the speed according to their ideal preference. Regardless of whether you want to read through faster or slower, everything is possible. However, the extra features don't end there.
Users can choose between 42 different languages if the web page isn't in the language they desire. The translation services are incredibly accurate and especially useful for language students. Additionally, being able to adjust the speed of the audio playback is particularly advantageous for language students. The possibilities for learning are endless and can potentially help you master multiple languages.
Additionally, the ability to translate and read around in more than 40 different languages does a lot more. It makes information all over the internet much more accessible. Effectively breaking down language barriers is key to ensuring a more connected world.
Many People Will Benefit From The Services
However, the real success is significantly improving the accessibility of modern smartphones to people with weaker vision than others. While there have been efforts made to improve the accessibility, nothing entirely on this scale has been accomplished before.
Sit back for a second and think about the amount of content you read on your smartphone. Even without any visual impairments, the extended screen time does leave a significant strain on your eyes. Due to the Read it feature, anyone can enjoy online content without having to read anything.
"Read It" Sound Becoming More Natural And Enjoyable
Moreover, Google also states that their software differentiates from other text-to-speech software because of natural-sounding delivery. Most other text-to-speech software, sound very robotic and empty. The empty nature of delivery can tire you out quickly and make it harder for you to keep paying attention. Google Assistants' Read it' feature is much more natural sounding.
The delivery is very natural sounding that allows users to enjoy a much more human reading experience. It showcases Google's extensive work on the text-to-speech platform, which has been ongoing since 2012. You can ingest much more content because the software works very similarly to an audiobook. It reads through the page as an actual human would.
Google is starting to roll out the software for Android Phones. The software will be available for all phones that run Android Lollipop or higher. These are super exciting times, and everyone's eager to see how the Read It feature involves. There are even plans for getting celebrity voice plug-ins!
How Do I Get Google Assistant to Read Text on Screen?
We are not used to doing things with our smartphones without looking at the screen, it seems impossible. However, by doing a few tweaks to your phone settings, you can receive most of the information from your smartphone without having to look at it.
With the help of Google Assistant, your phone can now read all the texts on the screen aloud and clearly.  Apart from reading answers to trivia questions and giving you driving directions, Google Assistance can easily read your incoming messages.
Just ensure you've enabled hands-free access, then say "Hey Google", Readout my text messages" and the feature will read them aloud to you.  However, this only works on new messages that you haven't read. You also receive the option to reply.
Here's a list of instructions on how you to use Google Assistant to read text messages out aloud:
The first step is to activate Google Assistant on your phone:
Open Google App on your Android phone

Click the "More" option at the bottom of the screen

Click "Settings", then "Google Assistant"

Next hit the "Assistant" tab on top and scroll down to choose your device

Toggle on the switch neighboring "Google Assistant"

Say "Hey Google" or "OK Google"
Next, allow it to read your texts.
Say "Read" my recent text message"

Click "OK" and permit Google assistant to read your notifications

Next, Toggle on Google Notification Access

Tap "Allow" and grant Google notification access

Say "Hey Google" or "OK Google"

"Read my recent text message"

Say "Yes" once Google asks if you want to hear
Although Google Assistant comes in-build in most android devices, you can download it from Google Play Store if your phone doesn't have it.  Once you've downloaded it, you can instruct it to read the text on your screen.
Google Assistant will read all your recent text message notifications.  Unfortunately, it can't read your old text messages. Besides reading text message notifications, Google Assistant can also read notifications from other messaging platforms such as WhatsApp.
Let's say you're on WhatsApp talking to a friend about a movie and your friend mentions the movie Django Unchained, but you don't know who's acting the movie. You can pull up Google Assistance and ask, "Who stars in Django Unchained?". Even when you specify nothing else, google assistant will read your screen and know what you're talking about.
Can Google Assistant Read Documents?
Yes, the new Google Assistant feature "Read it" performs an incredibly simple task, but also very crucial: It reads online articles or web pages.  This feature runs on all Android smartphones using Android Lollipop and above.
Using it is easy and hassle-free. Just follow the steps below:
Head to your web browser and open it, then navigate to the page you'll like Google Assistant to read aloud.

Once you've found it, activate Google Assistant by saying the words "Hey Google".

Next, issue Google Assistant the command, "Hey Google", "read this page" or "Hey Goggle", "read it".
Finally, Google Assistant will start reading the entire page out aloud, while auto-scrolling the page as it reads the text and highlights on the page as it continues.  This way you can remember how far you've read in the text.
In an event when a website owner or web manager doesn't want the feature to read the page out aloud, Google has developed a "no page read aloud" HTML Meta tag responsible for disabling the text on each page. 

 
Google Assistance doesn't edit any typos; it reads them as they are. Besides reading the articles, Read It can automatically translate text in 42 languages.  So if an article is English and you want to hear it in French, Read It will translate the content in real-time and read out the text for you.
To adjust the reading pace, Read It provides you with buttons that you can use to increase or reduce the pace. You can also pause the reading or skip back and forth through the text using the rewind buttons next to the play button.
It also comes with a three-dot overflow menu located in the top right corner of the screen, which presents you with more options. You can select three alternative reading voices, one female voice, and two male voices. And if you don't want the web page to scroll down as it's being read, you can turn off the text sync.
Google designed "Read It" to make Google Assistant read articles aloud in a natural and expressive voice, with rhythms and intonations that humans use while reading texts aloud.
When you open another app or turn off your display while reading an article, Read It will continue running in the background.

 

Just like an audio player it provides you with a notification tab that allows you to stop, pause, and skip forward or backward.
You can use the amazing function to listen to the latest news while driving to work. Or to read a recipe for you as you're cooking. You can adjust its reading pace to be slow enough, allowing you to follow and understand all the recipe's steps.
However, this feature also comes with some limitations. It only works effectively on chrome and Chromium-based browsers. So Firefox users have to copy and paste the URL of the article they want the Assistant to read over to chrome.
That's not all! It seems like it contains a bug that prevents it from being used in other Chromium-based browsers such as Brave and Vivaldi.
Conclusion
Being able to control your smartphone via voice command is super convenient. It eliminates the need for copying and pasting words to be specific in questions. So if your friend asks you about a song, new restaurant, or movie, you can easily find the exact information by allowing Google Assistant to read the text on the screen and search for it online. Not only does the "Read It" function makes the life of individuals who just can't be bothered to read text simper, but also bring the web closer to individuals with vision problems or those who entirely depend on voice command to navigate through their smartphones.