Your brand needs to stand out and you need to let prospective customers and competitors know that your business is unique. Many businesses may offer similar products and services, but yours is something that consumers need. I am sure this is what most business owners must think when they start their business. But how many businesses differentiate their company from their competition and grow?
Starting a business is not easy. Many take the risk fuelled by the initial burst of inspiration, creativity, and business savvy. Unfortunately, not all businesses that get off to a good start, last and beat their competitors.
In fact, approximately 80% of UK companies fail within their first year. When establishing a business, companies, and business owners must take into consideration both the consumers and their competitors.
It takes deliberate and strategic effort to make sure that a business can stand out from its competitors. In the sections below, we will give tips on

what makes a company different from its competitors.
How To Beat Your Competition In Business
1. Establish Your Presence
You have to first establish your business and make sure that your company has a share of the market. Establish your brand identity by deploying strategic and creative marketing strategies. The main goal is to get your company's name out there. After this is done, we can proceed to talk about beating competitors.
Establish a unique brand identity. Having a brand identity starts with a good logo. Come up with at least 3 designs, choose one that best communicates the identity of your brand. Companies with bigger capital can hire marketing and advertising agencies to help with this. Those who don't can use free apps and websites like Canva to design a logo. Once you have finalized the logo design, you can put it on stickers and other marketing materials and collaterals.
Use social media wisely. Reach out to your customers—both existing and prospective—by promoting your brand on various social media platforms. Start a blog if you can. Businesses can promote and launch their products and services, and also share related stories through these outlets. By doing this, you can increase engagement and brand recall.
2. Offer Great Customer Service
According to Chatmeter.com, more than 50% of customers are not loyal to any brand. Customers are more likely to go for companies that offer the best deals and packages. However, this is a one-time thing. They will keep coming back to the place where they are treated warmly while receiving top-notch products and services.
Have you ever walked into a café where the staff greets you with a warm smile, asks you how your day is going, before asking for your order? It is a marketing tactic, but at the end of the day, the customer ends up with a better experience in your store. This also increases the possibility of having them come back. They may even tell their friends about this café.
[caption id="attachment_9704" align="alignnone" width="2000"]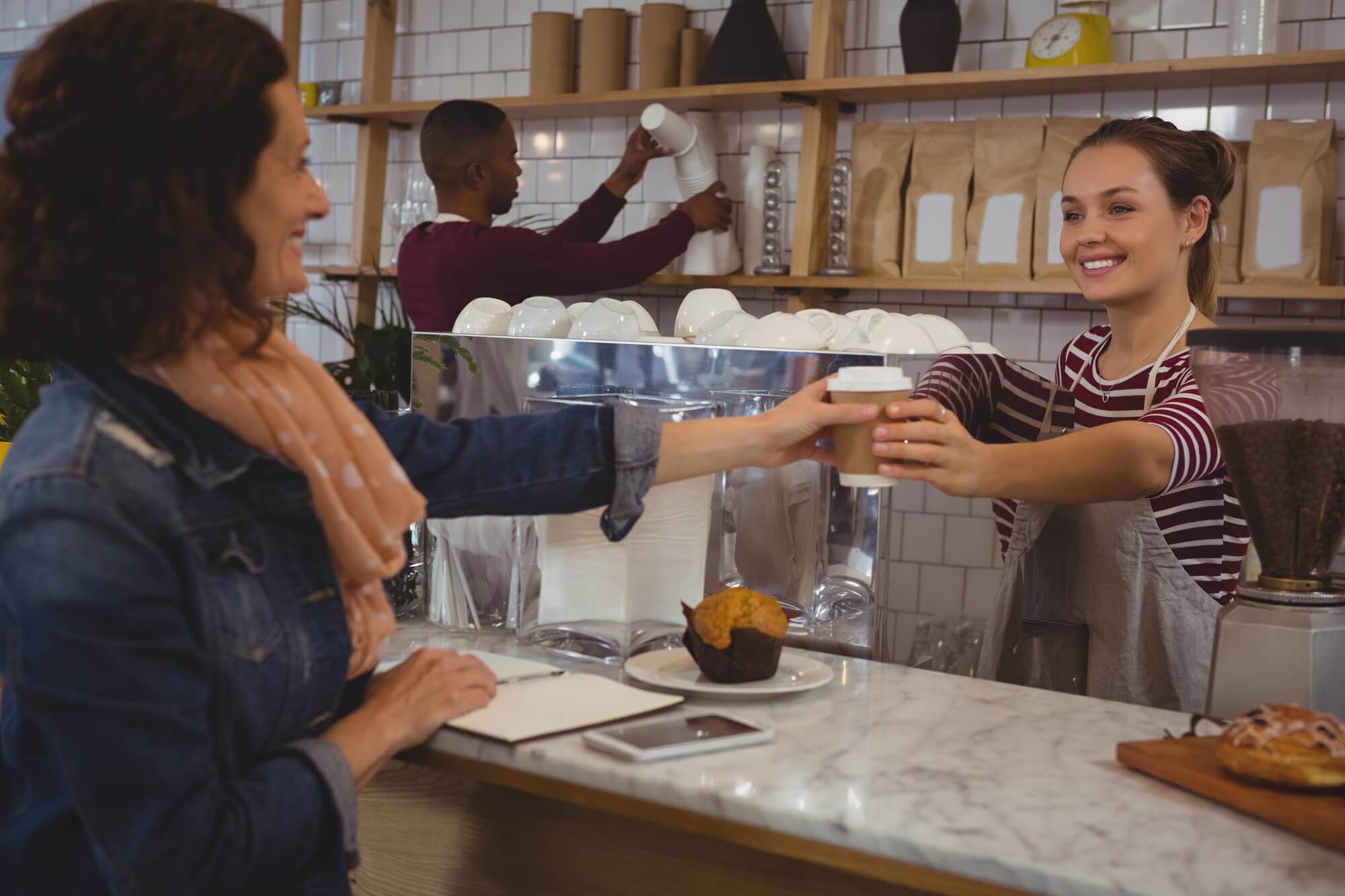 Young female owner serving coffee to the customer at a cafe
[/caption]
3. Earn Your Customers' Trust
Build a relationship based on trust. Always ensure utmost professionalism. Whether customers are buying something from your store or you're coming into their home to do repairs.
Show your clients that you are confident about your services and product by having a "money-back guarantee". This might give them some assurance that what you are giving them is of high quality—to the extent that you are willing to give them their money back if they are not satisfied.
Not all transactions will be as smooth as you would like. There will be some snags and it's up to the company to resolve these matters. When this happens, assure the client by putting in the effort to resolve the concern. Other examples would be providing after-sales service or giving freebies to loyal customers, train your staff so that they can engage on a more cordial level with your customers.
4. Stay True To Your Brand
Use personalized communication when engaging with customers, especially if online (as this is your only opportunity to establish rapport with the customer). When sending mass emails, try as much as possible to use their name in the greeting. They may or may not purchase anything from your promotion, but you will have grabbed their attention for longer than a few seconds.
Another example: ride-sharing apps are good at personalizing communication with customers. They provide the customers' updates about the estimated time of arrival (ETA) of the car, the name of the driver, and the car model of the vehicle picking them up.
Other companies can take a page from this type of communication. Towing services and home repair services can give updates to their customers telling them that someone from their team is on the way, send receipts that the service is complete and everything went smoothly—and if it didn't, then take responsibility and help resolve the customer's concern about your product/service. Allow your customers the opportunity to evaluate the services.
5. Value Honesty
Transparency is key. It's not uncommon to hear about business owners and companies that not-so-subtly overpromise on the quality of their products and services. Of course, this strategy can attract many customers, but only leads consumers to have unrealistic expectations.
Be upfront about the limitations of the products and services. If you can only ship locally and have yet to make arrangements for worldwide shipping, then you have to say that to those inquiring from abroad.
Also, be upfront about if there's a problem with concerns like the shipping schedule. When encountering these difficult situations,

 

as much as possible, be the first to reach out to your customers if you anticipate problems that will come up. It's harder to come back from a situation where the customers are already irate and angry before you get the chance to explain the situation.
In the interest of being transparent and honest, do not be afraid to display your company's certifications and achievements as this will let customers know that you're experts in the field and that they can rely on your company.
6. Go The Extra Mile
Evolve. Once you can establish your brand's identity and it starts to do well, it's tempting to stick to your guns and not try anything else. Understand that the needs of your client and the market, in general, will change, and so should you. Businesses can evolve while still staying true to their identity. Do some market research to plan for prospective products, services, and future partnerships.

Expand. Plan ahead even if your business is still in its early stages. This will give you something to look forward to as your business starts to become known in the industry. One way to do this is to add to your current roster of products and services. At this point, you may already have a pool of regular customers and established your business in the community. The trick is to determine what type of products and services they need and are willing to pay for. Before pooling in more capital or talking to potential investors, do market research. Make sure to include input from your current customers. The research data will help you determine what products and services to offer in the near future.

 
[caption id="attachment_9759" align="alignnone" width="2000"]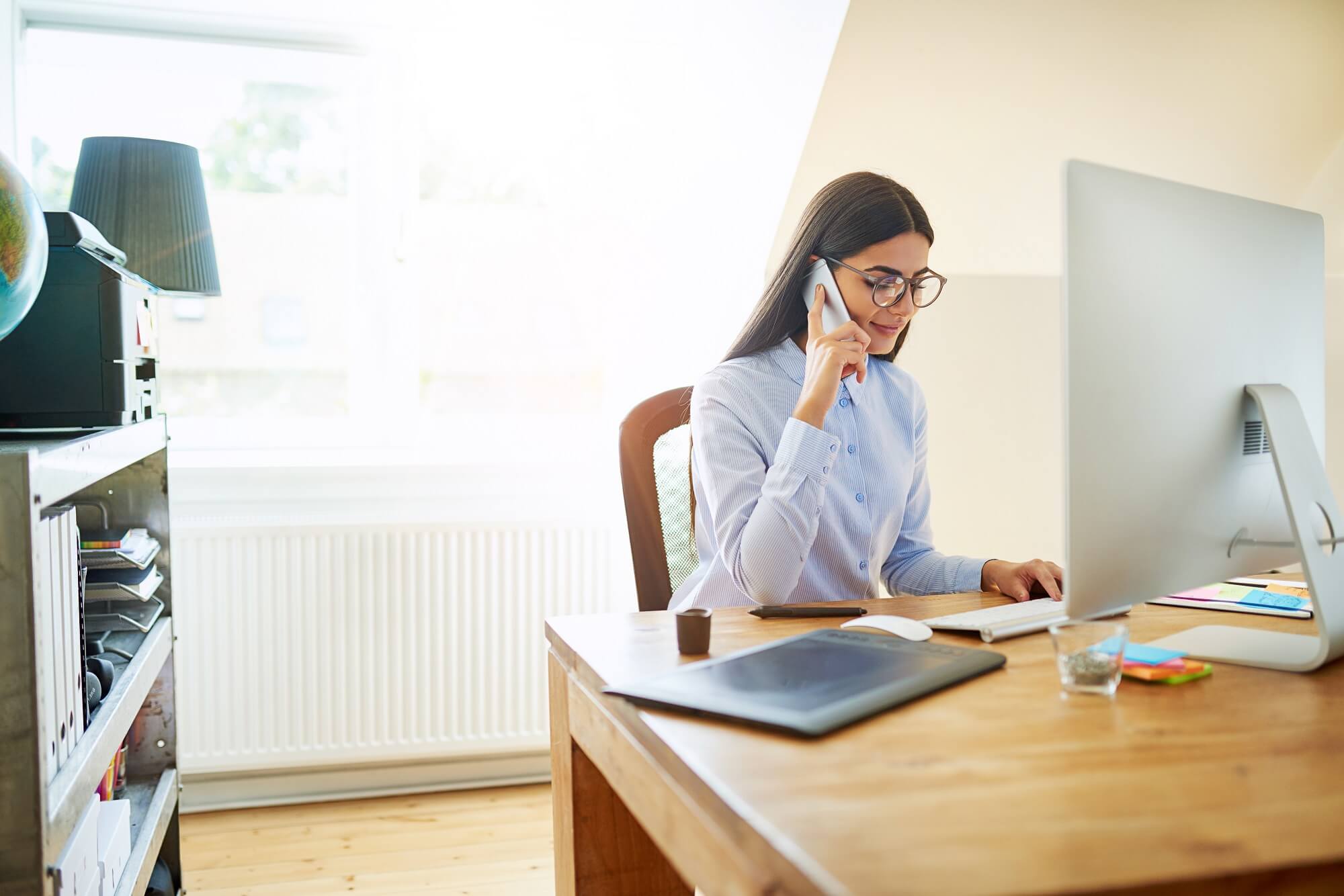 Small business owner on phone at desk.[/caption]
7. Help The Community
Having Corporate Social Responsibility (CSR) initiatives is not just for big companies. Even small companies can do something on a smaller scale to help the community where they started. It's not just about writing a check for a donation; the company has to engage, get to know the community they're helping, and then come up with solutions to those problems.
For example, your company can partner with a local animal shelter for your CSR initiative. The business owners and employees can volunteer to take care of animals and provide assistance to the staff. The company can also help raise awareness about the shelter and encourage residents to adopt the animals. These activities can be arranged instead of donating money.
With this, have someone from the staff manage all product reviews. Many potential customers read through reviews before purchasing something. Whether the review is good or bad, it's best to have someone respond and resolve these issues.
How to beat the competition in business
Beat the competition by being consistent. You can choose to use any or all of the options listed in the previous sections. They are just a few of the many strategies that any company can do to differentiate itself from the competition and thrive within the industry. It's up to the business owners to figure out how to stand out in an ocean of businesses both old and new.
Beware of complacency. These efforts have to be done continuously even after your business has seen some growth. Many businesses start strong with their initiatives but become lax after a while.
Final Thoughts
What makes a company different from its competitors is the overall customer experience along with the products and services that the companies offer. Companies should invest a significant amount of time, money, and effort into creating an unforgettable experience for customers, and to keep trying to attract new customers. Establishing a business is hard enough—what's more challenging is having customers remember your company or brand especially in the midst of tough competition from other businesses.