Takeaways are filling, practical, and cheap. But, they are not always the healthiest choice. With the isolation, even fewer people are paying attention to their eating habits. According to a 2020 survey from the British Nutrition Foundation, anxiety, stress, exhaustion, and boredom, are the main reason people turn to unhealthy foods. That's where healthy takeaway will come in handy.
By using healthy takeaway options, you can still get that convenient and satisfying meal. But, most importantly, you will cut back on fat and salt, which are causing diabetes and heart disease. If you have no clue where to start, we got you covered. Here is a detailed guideline on how to make healthy food choices when ordering from the closest UK restaurant.
What Is the Healthiest Take Away Food?
Although double cheeseburgers and kebabs will satisfy your taste buds, they are not the most nutritious option. What you need are foods packed with vitamins, minerals, and nutrients. So that they will give your body that healthy boost you've been looking for.

 
Mediterranean dishes are often considered among the healthiest takeaways. They are rich in a variety of veggies, whole grain, and lean meat, making them one of the most nutritious meal options.
[caption id="attachment_9470" align="alignnone" width="2000"]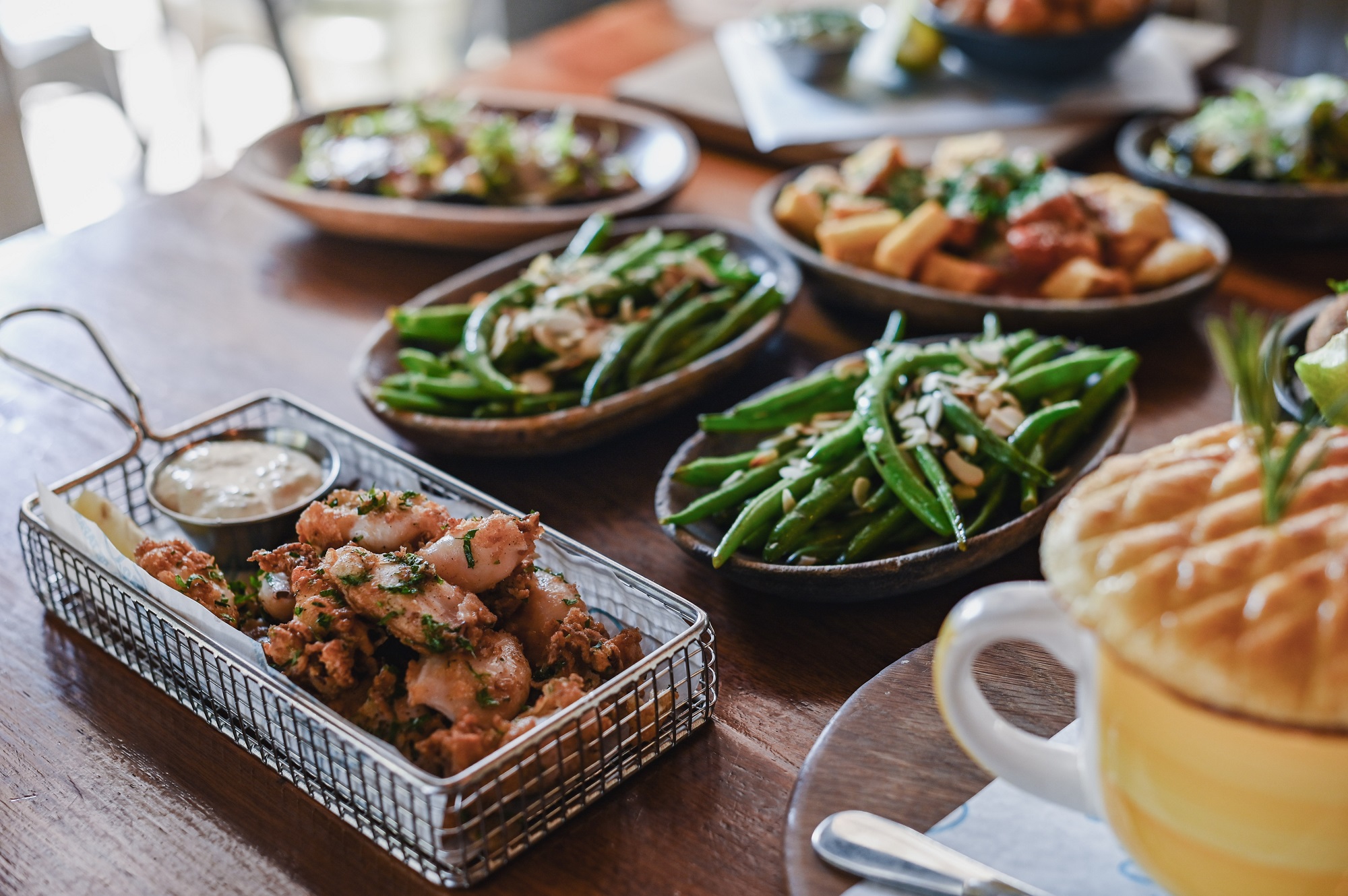 Mediterranean meal[/caption]
According to experts, the Mediterranean diet provides excellent sources of vitamins that can support weight loss and heart health. But, other typical options can also be made into a healthy takeaway. Here is how.

 
6 Healthy Takeaway Ideas You Should Try Today
When seeking healthy takeaway near me, looking for a UK restaurant with healthy dishes will be a top priority. They should have plenty of solutions for you to satisfy the cravings and get a filling dish. Restaurants that let you tweak meals, will always help you make a healthy takeaway. All you have to do is swap some of the high-calorie and high-salt foods, with a more nutritious choice. Here are a few tips to make it happen.

 
1. Switch the Chips, Pies, and Jumbo Sausages
Healthier choice: mushy peas, fish dipped in breadcrumbs, thicker chip slices without sodium
Reports show that over 10,500 specialist fish and chip shops exist all across the UK. Based on recent data, British consumers eat about 382 million fish and chips meals every year. Whereas 56% buy fish and chips to eat at home as their family meal.
The problem is, this food is extremely doused in vinegar and salt. That's why it rarely has any significant nutritious value. Although the fish itself is healthy to eat (you get some vitamins, minerals, and protein), when it is deep-fried, it becomes packed with fat and calories. Therefore, it is not a good everyday choice. When paired with oily chips, the fats are much easier to notice.
Options like mushy peas and baked beans are a great way to switch unhealthy dishes. To reduce the amount of fat consumed, thicker chips will make for a solid alternative. The idea is for the food to be tasty and healthy at the same time. Sometimes simple choices such as these can help you avoid the excess oil and fat when eating takeaway.
2. Avoid Huge Portions of Baked Goodies
Healthier choice: medium/small pizza with lean meat or vegetable topping, bruschetta, or a tomato pasta sauce.
Many people who order pizza from their favourite UK restaurant, choose high-fat toppings. Of course, the extra cheese does seem tasty and looks divine, but it is packed with saturated fat and calories. According to experts, when you don't watch the pizza intake and eat more than your body can handle, you could displace the good cholesterol.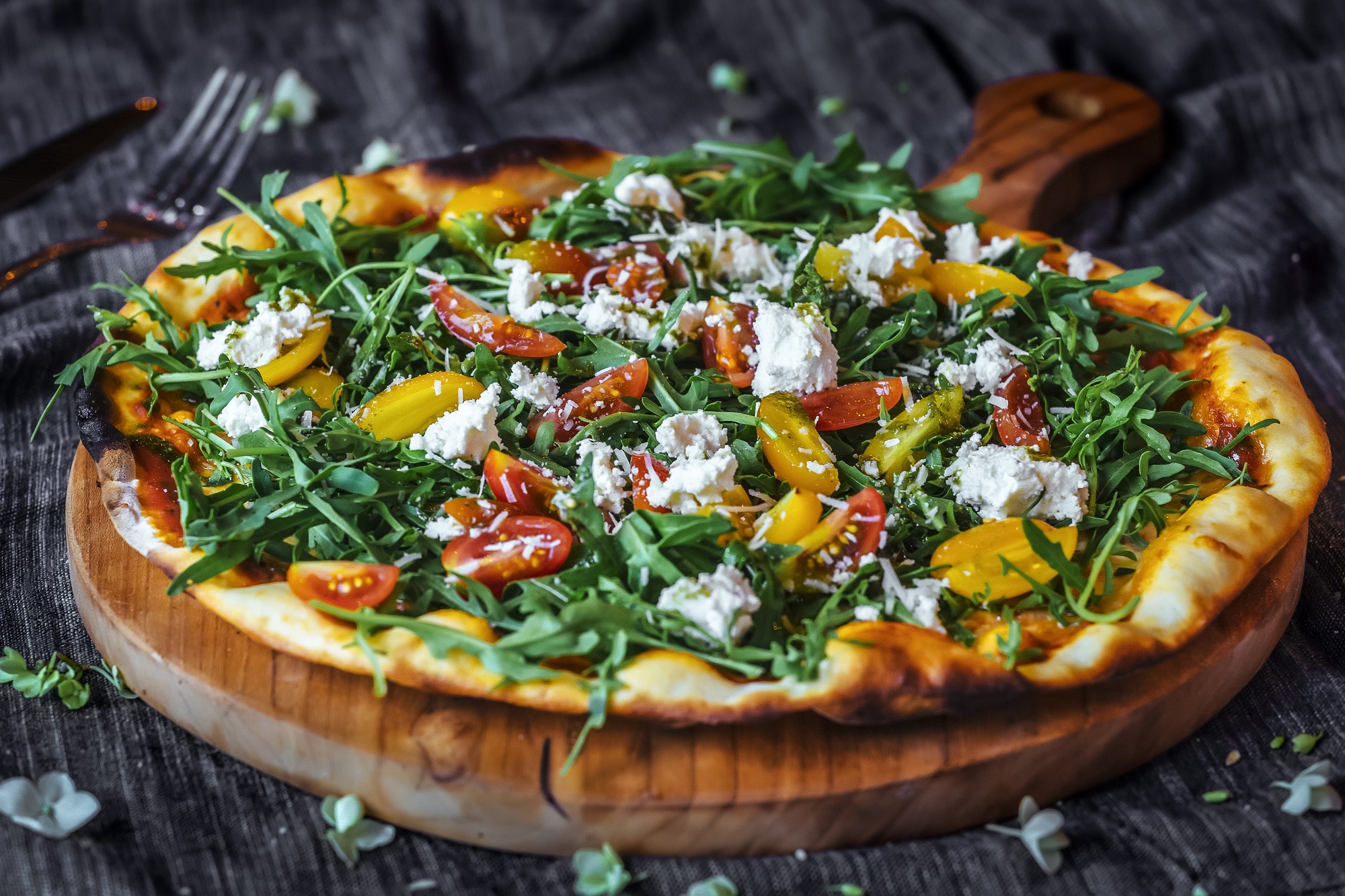 Eventually, it can clog up and harden the arteries, making it difficult to keep the heart health in good shape. Then, you also have triglyceride levels to think about. With high amounts of pizza and other baked goods, the triglycerides can remain higher than normal and increase the chance of heart problems. This is not something you want to expose the body to in the long run.
To reduce the amount of fat you consume, healthy takeaway options will be your best choice. For example, choose a thin base of lean meat or vegetable topping. If you like, you can add some bruschetta. But, to achieve the desired result, it is best to order a smaller or a medium-sized meal. That way you won't put too much pressure on your digestive system.
3. Skip the Crispy When Ordering Chinese
Healthier choice: steamed dumplings, veggies, fish, soups, and boiled rice.
When you see something that's crispy, it means it has been deep-fried. When the food is cooked, it ends up absorbing a lot of fat from the oils used. Based on research, fat can elevate blood pressure and cholesterol. Both of them are linked to causing cardiovascular disease.

 
[caption id="attachment_9466" align="alignnone" width="2000"]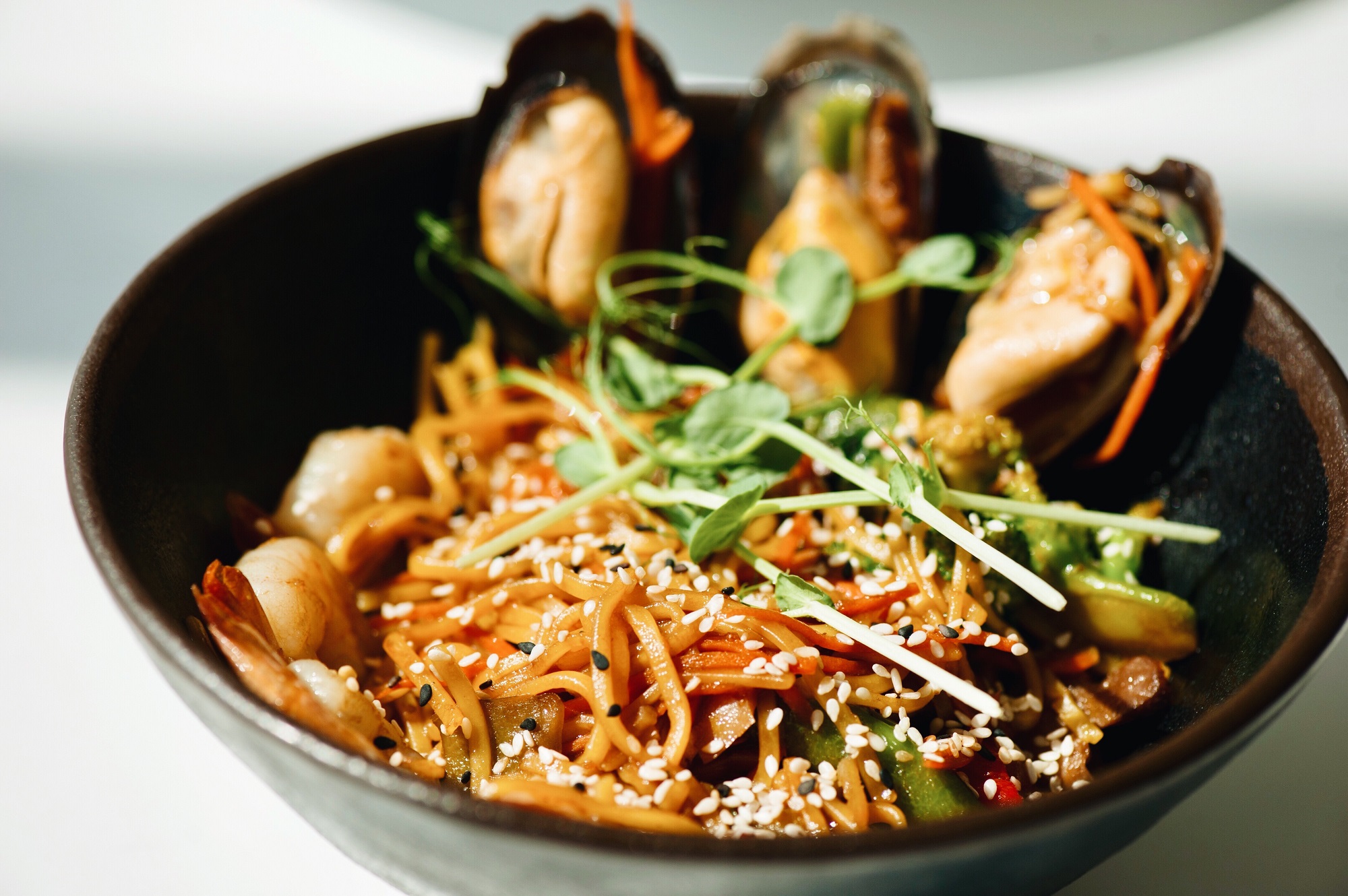 Processed with VSCO with a6 preset[/caption]
Regardless of how tasty it might be, you are still consuming a meal that's high in fat. That includes sweet and sour chicken. However, stir-fries are an exception. They are often low in fat and packed with healthy veggies. So, they can make a great choice for your next meal.

 
Another practical idea is adding your own side dishes to your takeaway. Oven and air-frying can help. You can still get crispy food, but with fewer fats. Air-frying maintains that crispy texture and that familiar taste you are looking for. The only difference is, you don't have to use oil to cook it. So, it is definitely worth it in the long haul.
4. Try to Avoid the Creaminess With Indian Food
Healthier choice: veggies or prawns, chapati and plain rice, madras with chicken
People love creams. They add a unique texture and flavour to the food that makes any meal mouth-watering. But, just like deep-fried foods, too creamy fishes are packed with fat. In fact, most of the fat in it comes from saturated fat. Countless studies have associated extreme levels of saturated fat with cholesterol problems.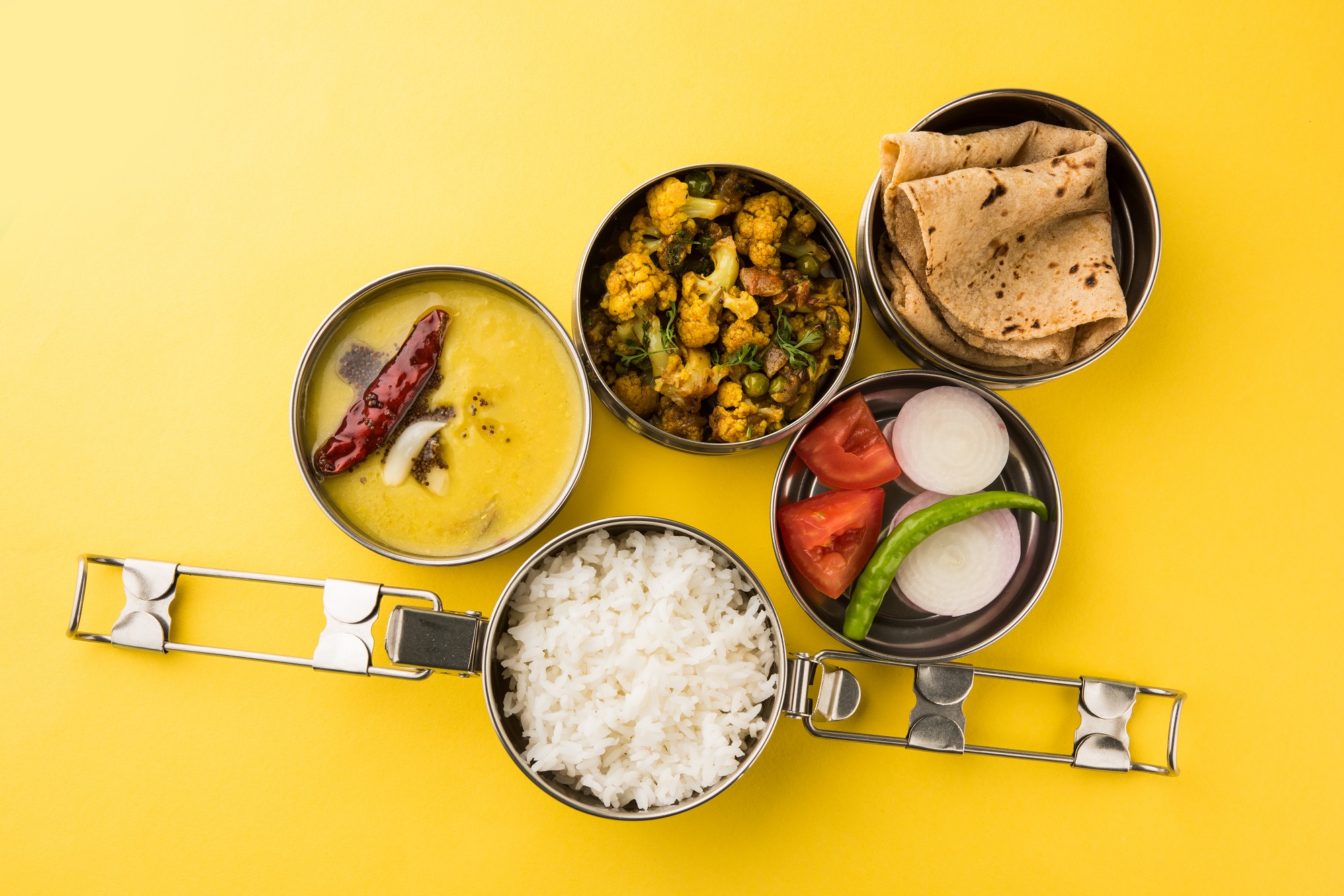 Since people tend to go overboard, it is easy to lose track of how much they've consumed. But, to really enjoy meals, moderation is the key. With a moderate amount of cream, you can manage the calories, fats, and nutrients you get from every meal.
What you need is to regulate the fat intake and keep the body in check. Options like veggies or prawns can come in handy. Feel free to add lentil side dishes, known as dal or dhal. They can give you the nutrition your body requires.

 
5. Go Easy on the Burgers and Kebabs
Healthier choice: salad, pitta bread, shish kebab, grilled meat without mayo or cheese.
Junk food, especially burgers, is just dripping in fat, excess salt, and calories. For instance, one hamburger has around 500 calories, 40g of carbs, 25g of fat, 10g of sugar, and 1,000mg of salt. That's more than enough to cause all kinds of problems in your system.

 
The recommended salt intake is less than 2,300mg a day. That means with 2 and a half burgers, you already exceed that limit. The extra layer of mayonnaise and cheese, or kebab and French fries, are just too tasty to miss out on. But, the more you consume, the harder it is to manage the excess weight.

 
Not only does a burger contain too much fat, but the sodium and calories are adding an additional layer of pressure to your metabolism. That's why once you pack on the extra pounds, it becomes increasingly difficult to get back on track. But if you swap the burgers for pitta bread or a salad, you can go a long way. They make for a great healthy takeaway that won't disappoint.
6. Pick Low-Calorie and Sodium Japanese Foods
Healthier choice: umeboshi, natto, miso soup, tofu, matcha drinks
Japanese cuisine is renowned for its high nutrition and low-calorie intake. People pay little attention to processed meals, making such restaurants the go-to choice. But, just like any other cuisine out there, this one also has its flaws.

 
Take white rice, for example. This one features a high glycemic index. In other words, the carbs you get from the meal convert faster into blood sugar than those found in brown rice. Based on clinical reports, the high intake of white rice could put you at risk of developing diabetes.

 
Overall, those on a low-fibre diet, with heartburn or nausea, might find the white rice easy to digest. It may not cause any discomfort or put a strain on their digestive system. However, when consumed in heavy amounts, the rice can get in the way of your physical health. Sometimes even predisposing people to prediabetes or diabetes.

 
Final Thoughts
As you can see, ordering a healthy takeaway is not as hard as it looks. With just a couple of tweaks, you can make it happen. With all the information listed here, you can get a better perspective of the food you should order. Not only is it rich in nutrients, but it is tasty as well. So, don't worry about what you can't and can't order. Just add a couple of changes and you will get a worthy meal. Did you find this guide helpful? What are your favourite healthy takeaway options? Share your thoughts in the comments below.