[caption id="attachment_5335" align="alignnone" width="2000"]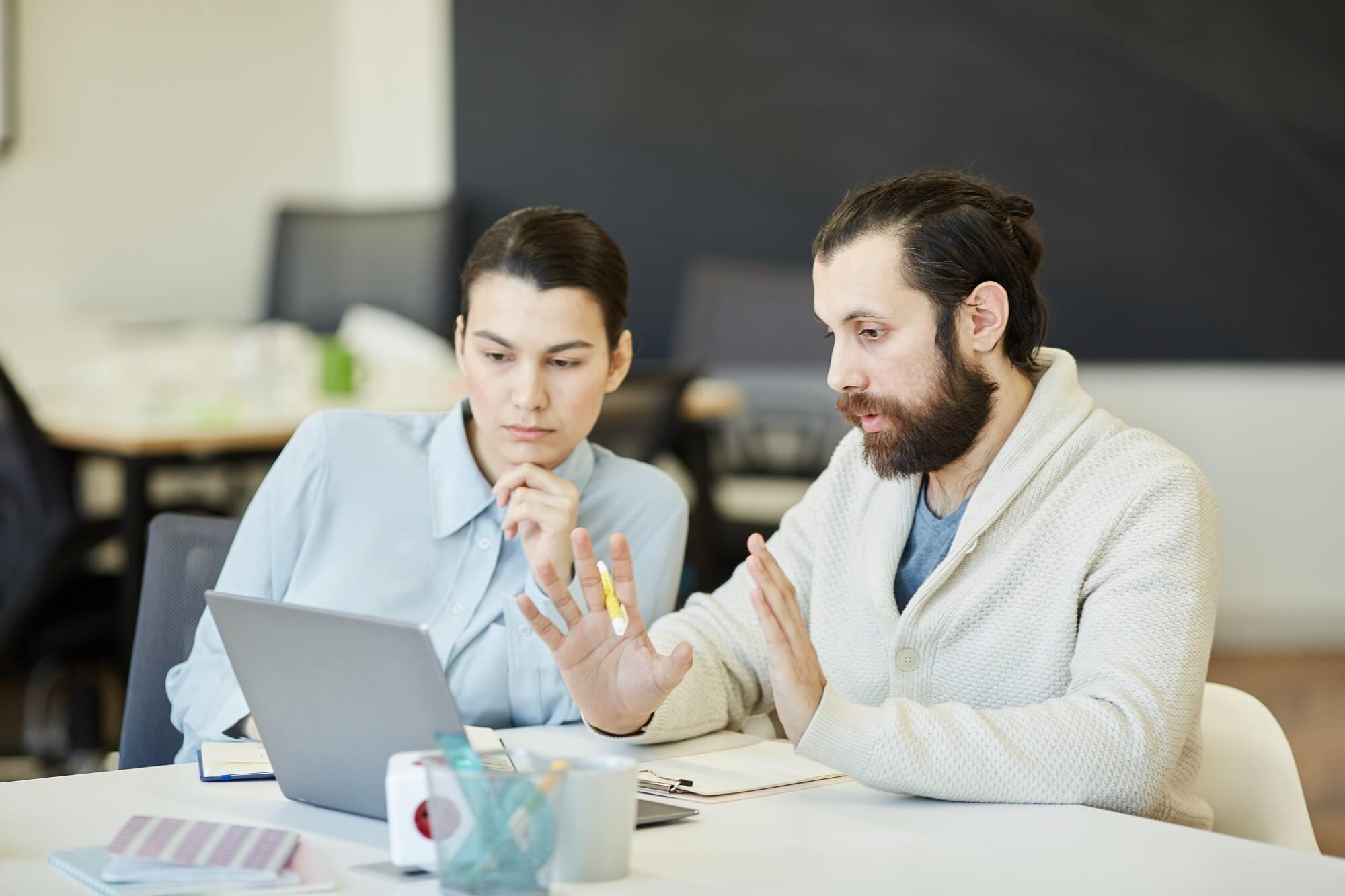 brand managers sitting together at office desk[/caption]
"I've learned that people will forget what you said, people will forget what you did, but people will never forget how you made them feel." Maya Angelou
A happy customer is your brand ambassador. The more advocates you will have, the lesser you will spend on advertising. Social proof is a psychological phenomenon, and it does wonders for brands, services, or products. Over the years, several big brands have cracked the code on how to get customers to leave reviews that are positive for their products and services.
In 2012, Coca Cola installed "Happiness Machines" around the world that dispensed free coke instead of some antics like dancing, hugging the machine, etc. Around 2018, in a bid to revive sales, the company began a "Share a Coke" campaign across 70 countries. Every bottle had common names like dad, mom, daughter, friend written, so people were inspired to share them with their family, relative, or friends. This was taken further with the creation of a hashtag. The social media movement picked up as people happily posed pictures of sharing their beverage with their near and dear ones. This again created a positive brand image for the company.
Netflix has seen an unprecedented rise in its popularity. Its model has been simple from the start – upon registration; the user gets a free month of unlimited content, including the Netflix original productions. The company is so sure that the user will convert into a paying customer, that they don't mind the open access for 30 days. This has led to a massive rise in the platform's popularity, with the early users recommending and sharing their experience with their friends.
Even start-ups have made use of positive experience of customers. In its early days, Dropbox attracted considerable referral traffic. At the time when internet users had no idea about cloud services, Dropbox was offering an incredibly useful service. It gave an additional 500mb to every user who signed up using a referral code. Users enjoyed how they were able to accumulate more space, and this increased brand loyalty. This gave them a compelling reason to choose Dropbox over its competitors.
As you can see in all the three examples, the businesses focused on keeping their customers engaged and happy. All techniques were unique, but they had the same end goal – increasing brand awareness through customer loyalty.
There are so many factors that play a role in a customer's decision to buy from your company. Generally, people look to their friends and families for recommendations and then go online to look for options. Since it is so easy to place an order online without even talking to a sales representative, that the internet promotes for you – and this has a massive impact on whether customers purchase from you or not.
The fact of the matter is, your best marketers are your customers, not your sales representatives and customer service teams. If you figure out how to get customers to write online reviews or get them talking about your brand in a positive light, you've won half the war.
BrightLocal reports that as many as 85% of shoppers trust online reviews as much as they trust personal recommendations. The same survey found that positive reviews increase the trust of customers in a brand by 73%. Around 57% of buyers visit the business' website after reading positive feedback from previous customers.
But the question remains the same: how to get customer reviews?
Maybe you're a small business that is in its initial phase. Perhaps you're giving your brand a makeover, or you are in the process of expanding your business – and there is a lot on your plate right now.
The good news is, if your customers are happy with their purchase, they're more than willing to help you out. In the same survey by BrightLocal, out of 74% customers who were approached for leaving feedback online, 68% were willing to do so.
In short, don't hesitate to reach out to your customers. With a smile and a heartfelt thank you, you can build a positive brand image for you online.

How to get Customers to Write Online Reviews?

5 Proven Ways
1. Create dedicated spaces to leave reviews.
Before your customers can even make it to your website, make sure that they know about you from places where they conduct their online research. There are several third-party sites that people consult to know more about businesses, products, or services.
Facebook
Claiming a Facebook page for your business helps potential users discover your business and review it without leaving their social network. Facebook remains the most popular social networking site, so naturally, it rewards companies with a high level of responsiveness and engagement.
Google My Business
This free tool connects buyers with businesses on Google search results and Google Maps. Listing a business here is free. You can add as much information as you want. There is a separate section for reviews where in your customers have the option to voice their experience and assess your business on a five-star basis.
Amazon
If you happen to sell through Amazon, make sure to claim and customise your Seller Page on Amazon. There are several options that you can take advantage of, right from adding product banners to setting up a full-fledged store. It is just like maintaining your website, with the exception that this a free service that you don't have to spend additional money on.
RateUsOnline – Business Review Directory
Business review directories are places where potential customers conduct their preliminary search for a list of businesses offering the products or service that they desire.
RateUsOnline is a trusted go-to option for users here in the UK with an assortment of businesses in the event planning, entertainment, restaurants, maintenance providers, education, hair & beauty, financial & legal, gifting, charities, health, and automotive repair spaces.
Every listing is accompanied by photos, operational hours, and customer reviews. This makes it easy to compare different listings and select one that fits the needs of your customers quickly and seamlessly. Listing a business is also very easy. All you have to do is to sign up and fill in the details to get started.
2. Ask your customers directly.
Before you jump on the bandwagon to come up with strategies that get your customers to leave reviews online, maybe you've overlooked a simple yet powerful tip.
Simply request them to review your business.
This is straightforward and highly effective. Etsy asked their customers to share feedback with a follow-up mail or text message. Over 25% of purchases got reviewed, as a result – and all they did was ask.
3. Make it easy for your customers.
The Heathrow Airport in the UK has a straightforward machine that seeks the security experience of flyers on the airport.
You can do the same via a "thank you for your purchase/how was your experience" email, with a direct link to a review platform of your choice.
That's one less step for your customers and brings you one step closer to getting a review.
4. Incentives work well too.
Most of the time, even those who are most satisfied with your business might not be willing to leave a review. For such cases, an incentive goes the extra mile to get customers to write reviews.
Incentives don't mean paying. They are just little gestures to acknowledge the time your customers took out of their schedule to do your business a favour. You can enrol them in your loyalty programs, offer monthly giveaways, or give them a discount the next time they shop from you.
5. Engage with existing reviews.
BrightLocal reports that a whopping 97% of respondents read the response of businesses on reviews left for them.
Replying to reviews is your chance to showcase what your business and customer service is like. If your response is prompt, polite, and helpful, even for negative reviews, you stand a chance to influence more people than just the one dissatisfied customer. This is where you explain your side of the story and succeed in changing the mind of the reviewer.
Are you feeling confident about how to get customers to review your business?
Hopefully, you now know how to get started on building a positive brand image for your business. Use these tips to build a solid online reputation for your business, and don't forget to list your business on RateUsOnline – Your Free Online review directory that advocates businesses with reviews.